Most of us have got used to the sting of a vaccine needle over the past year. Energy price increases in 2022 could be much more painful.
The collapse of a number of UK energy suppliers has been well publicised. What is less appreciated is how vicious current energy price spikes are and what that could mean for UK consumers.
A perfect storm has occurred in global gas markets this year due to transportation issues, high demand in Asia, low wind generation in Europe and unseasonably cold weather in the UK. These factors have combined to leave the UK short of stored gas in the run-up to winter and have resulted in steeply rising gas prices. As gas is a major contributor to electricity production, the price of electricity has inevitably followed suit.
The issue is summed up in the chart below, which shows the wholesale cost of baseload electricity and natural gas over the course of 2021. The price of natural gas increased by a staggering 510% between 1st January and 17th December 2021, dwarfing what would normally be considered an eye-popping 284% increase in the price of electricity.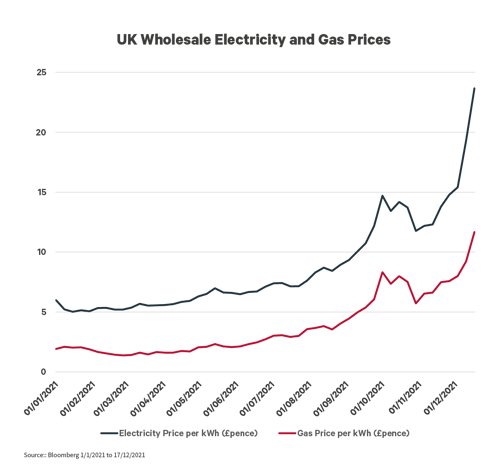 But we have a price cap, so it's all OK – right?
Consumers who are aware of the steep rises in energy costs may be taking comfort in the existence of price cap regulations implemented by Ofgem, the UK's regulator of consumer energy suppliers. However, there may be a mismatch between popular conceptions of what the price cap does and the reality of what it is designed to do.  
Ofgem's description of its energy price cap makes it clear that it covers only the 15 million customers who are on default energy tariffs, standard variable tariffs and prepayment meter energy tariffs. It also states that "the caps deliver fair energy prices by ensuring these tariffs reflect the underlying costs to supply energy, and no more."[1]
The price cap is therefore intended to prevent energy suppliers from profiteering. It is not designed to protect consumers from commodity price rises.
When is a price cap not a price cap?
Clearly, each household's energy bill depends on how much gas and electricity is used, but Ofgem do publish a set of monetary price caps based on a "typical domestic consumer" and these are reviewed twice a year. The current price cap for a household using 12,000 kWh of gas and 2,900 kWh per year and paying by direct debit is £1,277 per annum. This rate was announced in August 2021 with effect from October 2021.
The next price cap will be announced in February 2022 with effect from April. Using wholesale electricity and natural gas prices in the six months preceding the announcement, we can estimate where the price cap is likely to land.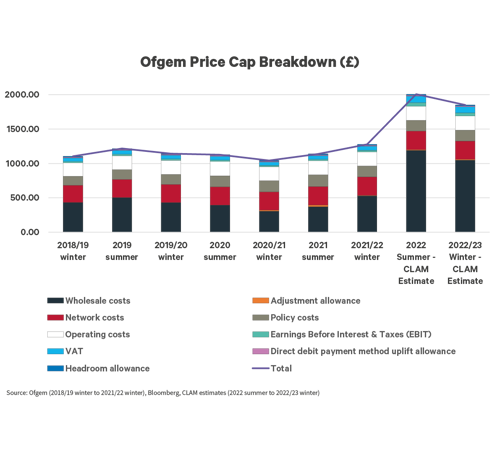 [1] Source: Ofgem, Energy Price Caps Explained, 2019. "A price cap on (including standard variable tariffs or 'SVTs') came into force on 1 January 2019, bringing price protection to around 11 million energy customers. Since 1 April 2017, there has also been a price cap for. This cap covers around 4 million energy customers. The caps deliver fair energy prices by ensuring these tariffs reflect the underlying costs to supply energy, and no more."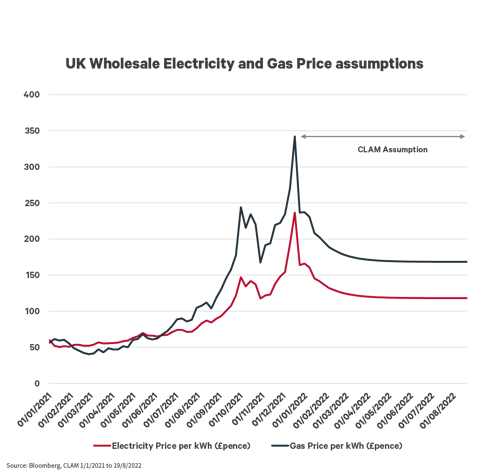 Forecasting energy prices accurately is impossible, but the recent aggressive upward spike may reverse somewhat as some supply issues are corrected and recent energy trading activity calms down. However, the fundamentals of the markets are likely to lead to elevated prices for much of 2022.
Irrespective of what happens next, from the point of view of the UK consumer much of the damage will have already been done. Ofgem's price cap is likely to increase from £1,277 to around £2,000, a rise of about 57%, when it is announced in February 2022. This is equivalent to an increase of just under £70 per month, which would be very painful for many UK households.
Big enough to dent consumer spending
The latest data from the Office for National Statistics suggest that the median level of household disposable income is £29,900. This is a median number, which means that half of the country is getting by on less than this.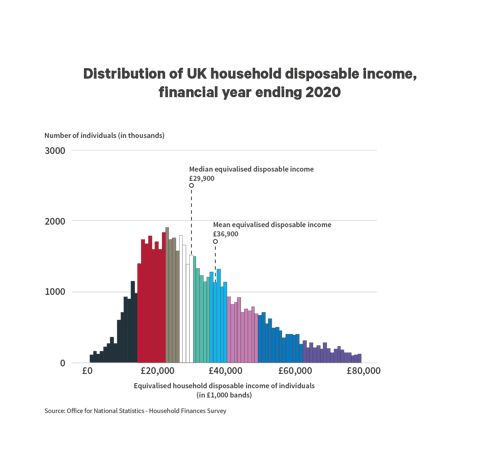 Pre-Covid, the UK savings ratio was around 5% of the median income, or about £1,500 per year, but this number is skewed by higher-earning households. Those on lower incomes will be saving a much lower proportion of their income and, in many cases, nothing at all.
The increase in energy prices is therefore likely to have a profound effect on consumer spending patterns next year as a large proportion of UK consumers devote more of their earnings to paying for heating, lighting and hot water. As yet, this does not seem to be fully appreciated by the UK stock market or, more importantly, by UK consumers.
And mortgage rates will rise too
In terms of wider inflation, gas and electricity prices alone contributed to approximately 0.7% of the 5.1% CPI data at the end of November and have lurched upwards since then. The Bank of England has already implemented one interest rate rise. Strong upward pressure from energy prices will only encourage them to do more and at pace.
This is further bad news for UK consumers because it feeds through to higher mortgage rates that will disproportionately impact first-time buyers, who tend to have lower incomes and more expensive mortgages.
With this in mind, the LF Canlife UK Equity Income Fund will continue to closely monitor UK inflation, the effect on bond yields and the health of the UK consumer. The positive employment data underpinning optimism about the UK's economic outlook may not be enough to ensure that all is well.
UK companies that rely on consumers' disposable income may find recovery to be more elusive than they expected in 2022. At the same time, predictions of continuing strength in the housing market appear less certain. As always, these factors must be viewed through the lens of valuation – we will continue to do so.
Important Information
Past performance is not a guide to future performance. The value of investments may fall as well as rise and investors may not get back the amount invested. Income from investments may fluctuate. Currency fluctuations can also affect performance.
Due to the underlying assets held, the price of the LF Canlife UK Equity Income Fund is classed as having above average to high volatility.
Subscription for shares and buying units in the fund(s) must only be made on the basis of the latest Prospectus and the Key Investor Information Document (KIID) available at https://www.canadalifeassetmanagement.co.uk/
The information contained in this document is provided for use by investment professionals and is not for onward distribution to, or to be relied upon by, retail investors. No guarantee, warranty or representation (express or implied) is given as to the document's accuracy or completeness. The views expressed in this document are those of the fund manager at the time of publication and should not be taken as advice, a forecast or a recommendation to buy or sell securities. These views are subject to change at any time without notice. This document is issued for information only by Canada Life Asset Management. This document does not constitute a direct offer to anyone, or a solicitation by anyone, to subscribe for shares or buy units in fund(s).
Canada Life Asset Management is the brand for investment management activities undertaken by Canada Life Asset Management Limited, Canada Life Limited and Canada Life European Real Estate Limited. Canada Life Asset Management Limited (no. 03846821), Canada Life Limited (no.00973271) and Canada Life European Real Estate Limited (no. 03846823) are all registered in England and the registered office for all three entities is Canada Life Place, Potters Bar, Hertfordshire EN6 5BA. Canada Life Asset Management Limited is authorised and regulated by the Financial Conduct Authority. Canada Life Limited is authorised by the Prudential Regulation Authority and regulated by the Financial Conduct Authority and the Prudential Regulation Authority.
CLI02013