Liquidity funds have been a popular choice for investors in 2023 as they offer significantly more capital stability than longer-dated fixed income funds, generous yields of c. 5% and the ability to put cash back in the market quickly with T+1 settlement.
However, as we have previously talked about, the market is not homogenous. At Canada Life Asset Management, we believe our bias towards fixed income assets is a significant differentiator for the LF Canlife Sterling Liquidity Fund, adding significant long-term value. However, when you look at the Morningstar GBP Money Market and GBP Short-Term Money Market sectors (60 funds), those with sizeable fixed income allocations are rare. We have highlighted the average weightings in the chart below: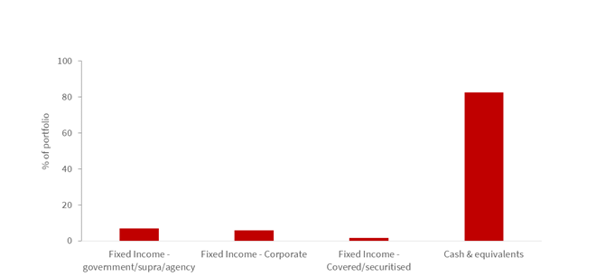 Source: Morningstar Direct, June 2023. GBP Money Market and GBP Short-Term Money Market
category averages.
There are some slight differences that need to be taken into consideration. These Morningstar sectors – which have the same rules as the UK's own IA Short-Term Money Market and Standard Money Market sectors – separate out money market funds based on specific maturity and duration restrictions. Money market funds have their own set of regulations, which set out that – short-term money market funds for example – have a low volatility NAV (LVNAV) structure with shorter weighted average maturity (WAM) and weighted average life (WAL) profiles than standard money market funds. To illustrate this, the LF Canlife Sterling Liquidity Fund currently has a WAM of 82 days for example, whilst the average WAM in the short-term sector is 40 days.
As a result, Short-Term Money Market funds  in particular tend to be biased towards deposit and other cash-based instruments as they have zero duration risk. Therefore, they tend to hold up much better during sharply rising rate environments (as we have just witnessed). However, we believe the lack of fixed income exposure detracts over the longer-term as these funds are unable to capture the additional spread available. The below graph overlays our weightings versus the average weightings of our peers across both the money market sectors:

Source: Morningstar Direct, June 2023. GBP Money Market and GBP Short-Term Money Market
category averages.
Our higher weighting towards fixed income allows us to capture greater yield-enhancing opportunities. For example, recent purchases include a March 2025 HSBC Floating Rate Note (FRN) at 0.70% above SONIA. This is a high-quality bank bond at a comparatively high spread, which will benefit from any remaining rate hikes and provide uplift to SONIA throughout its term.
Other purchases include a KfW Development Bank July 2024 bond purchased with a 5.45% yield earlier this year. KfW is linked to the German federal government and this sterling issue was bought due to its strong counterparty credentials, high degree of liquidity and attractive yield comparative to other bond issuance at the time.
Of course, no one strategy works all the time and those liquidity funds with a higher allocation to fixed income will have lagged their deposit-focused periods since the end of 2021 – when rates and inflation started rising sharply. However, if you believe rates are about to peak, plateau, or even fall then they will be well-placed to regain this (very minor) underperformance due to the extra spreads on offer.
This is important as these spreads accrue long-term value when held within the Fund. For example, despite the interest rate environment being unconducive to a fixed income-biased fund, the LF Canlife Sterling Liquidity Fund is still ranked 4th out of 45 in terms of return for the last 12 months. It is ranked 8th out of 40 over 3 years and 2nd out of 30 over 5 years (Source: Morningstar Direct, to 31 July 2023. Morningstar GBP Money Market and GBP Short Term Money Market sectors. I Acc GBP share class, in sterling, bid-to-bid, with income reinvested and no initial charges. The performance of other share classes may differ. We have used the Morningstar sectors as they include the FCA Offshore Recognised funds that are not included in the IA sectors).
Yet performance is not the be all and end all, nor should it be. Where we believe the Fund can really add value in client portfolios is in the diversification benefits it brings, enabling clients to pick up a bit of extra yield, without having to sacrifice on capital stability or liquidity.
Past performance is not a guide to future performance. The value of investments may fall as well as rise and investors may not get back the amount invested. Income from investments may fluctuate.
The views expressed in this document are those of the fund manager at the time of publication and should not be taken as advice, a forecast or a recommendation to buy or sell securities. These views are subject to change at any time without notice.
No guarantee, warranty or representation (express or implied) is given as to the document's accuracy or completeness.
The LF Canlife Sterling Liquidity Fund is a UCITS scheme and a standard variable net asset value (VNAV) money market fund (MMF). The MMF is not a guaranteed investment, nor does it receive external support to guarantee its liquidity. Unlike bank deposits, investment in MMFs can fluctuate and investors' capital is at risk.
Data Source - © 2023 Morningstar, Inc. All Rights Reserved. The information contained herein: (1) is proprietary to Morningstar and/or its content providers; (2) may not be copied or distributed; and (3) is not warranted to be accurate, complete or timely. Neither Morningstar nor its content providers are responsible for any damages or losses arising from any use of this information.
This page is for information only. It does not constitute a direct offer to anyone, or a solicitation by anyone, to subscribe for shares or buy units in fund(s). Subscription for shares and buying units in the fund must only be made on the basis of the latest Prospectus and the Key Investor Information Document (KIID) available in the Literature section.
Canada Life Asset Management is the brand for investment management activities undertaken by Canada Life Asset Management Limited, Canada Life Limited and Canada Life European Real Estate Limited. Canada Life Asset Management Limited (no. 03846821), Canada Life Limited (no.00973271) and Canada Life European Real Estate Limited (no. 03846823) are all registered in England and the registered office for all three entities is Canada Life Place, Potters Bar, Hertfordshire EN6 5BA. Canada Life Asset Management Limited is authorised and regulated by the Financial Conduct Authority. Canada Life Limited is authorised by the Prudential Regulation Authority and regulated by the Financial Conduct Authority and the Prudential Regulation Authority.
Promotion approved 09/08/23