Multi-asset funds can be seen as a vanilla and homogenous set, with the theory being that the risk profile dictates a portfolio's asset allocation which in turn dictates the performance. Whilst true, and especially relevant for advisers who trust risk-profiling to ensure client suitability, it is also fair to say that not all multi-asset funds are the same.
This is significant today because financial markets have a very different outlook from only a few months ago.  Since the global financial crisis of 2008, investors have grown complacent with low interest rates as well as the recently invented monetary policy we have come to know as Quantitative Easing. This extraordinary period, capping decades of already falling rates, has clearly benefited asset prices, albeit unequally.  Fast-growing businesses have seen rocketing valuations in these conditions.
That growth is tied to leaps in technology brought to our lives by household names. Investors have supplied these businesses with capital on the expectation that they will grow quickly, and indeed many have. But the last few weeks have seen the world's major central banks indicate that interest rate rises are coming, and quickly, and has already raised the cost of capital for you, your clients and all businesses. Growth companies have reached valuations which are very sensitive to changes in discount rates, and companies showing any signs of weakness in recent earnings reports have seen their share prices hit very hard by nervous investors.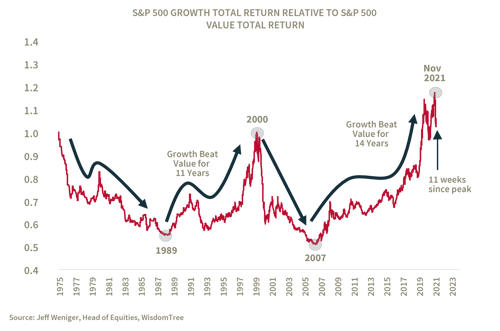 The graph above illustrates how growth companies in the US have previously had long periods of outperformance versus more value companies. This has been typically punctuated by short, sharp periods of underperformance in growth businesses where there is a significant unwinding in the price differential. The reversal of the current trend has only been three months and the reversion could be similarly spectacular on the downside for growth companies. It is these moments in the cycle where being balanced but nimble is hugely important for returns in your client's portfolio in 2022.    
When managing our five well diversified risk targeted LF Canlife Portfolio III–VII funds, our job is not to forecast exactly how many rate rises there will be, nor even the price of the UK equity market six months hence. Most financial market participants, up to and including central bankers, woefully fail to accurately predict asset prices. Instead, we see our role as ensuring that we construct well-diversified, sensibly valued portfolios for you and your clients. This means finding the optimal balance across risky assets and ensuring there is sufficient protection should our views misalign with the markets. We believe that long-term investing is about consistently finding incremental improvements for your portfolio that add value, avoiding bubbles, being pragmatic, and keeping a cool head when conditions turn sharply worse, as they inevitably do.
It is likely now that today's financial world has changed and access to permanently cheap capital is diminishing. In the medium-term this will create new winners and losers - indeed history suggests the recent winners will become the future losers.
This rotation will not happen all at once. Markets typically go through bursts of greed and fear. Large concentrations in those winners will either work wonders for a portfolio or drag it into the doldrums. We believe that 2022 will be the year that discerning investors are rewarded for being disciplined. As a life insurance business where employing strong risk management is at the heart of the business model, Canada Life Asset Management are focused on ensuring that we help them compound their wealth incrementally through time.
Important Information
Past performance is not a guide to future performance. The value of investments may fall as well as rise and investors may not get back the amount invested. Income from investments may fluctuate. Currency fluctuations can also affect performance.
The LF Canlife Portfolio Funds may invest in property funds that may be illiquid and subject to wide price spreads, both of which can impact the value of the Fund. The value of the property is based on the opinion of a valuer and is therefore subjective.
The information contained in this document is provided for use by investment professionals and is not for onward distribution to, or to be relied upon by, retail investors. No guarantee, warranty or representation (express or implied) is given as to the document's accuracy or completeness. The views expressed in this document are those of the fund manager at the time of publication and should not be taken as advice, a forecast or a recommendation to buy or sell securities. These views are subject to change at any time without notice. This document is issued for information only by Canada Life Asset Management.
This document does not constitute a direct offer to anyone, or a solicitation by anyone, to subscribe for shares or buy units in fund(s). Subscription for shares and buying units in the fund(s) must only be made on the basis of the latest Prospectus and the Key Investor Information Document (KIID) available at https://www.canadalifeassetmanagement.co.uk/
Canada Life Asset Management is the brand for investment management activities undertaken by Canada Life Asset Management Limited, Canada Life Limited and Canada Life European Real Estate Limited. Canada Life Asset Management Limited (no. 03846821), Canada Life Limited (no.00973271) and Canada Life European Real Estate Limited (no. 03846823) are all registered in England and the registered office for all three entities is Canada Life Place, Potters Bar, Hertfordshire EN6 5BA. Canada Life Asset Management Limited is authorised and regulated by the Financial Conduct Authority. Canada Life Limited is authorised by the Prudential Regulation Authority and regulated by the Financial Conduct Authority and the Prudential Regulation Authority.