According to the UN's net zero coalition, the world needs to reduce greenhouse gas (GHG) emissions by 45% by 2030 (from 2010 levels) to have any hope of keeping global temperature rises to within 1.5 degrees Celsius above pre-industrial levels. Yet based on current national action plans, they are instead set to rise by 14% from those reached in 2010. As things stand, the darts are not even landing close to the dartboard.
If only we had the ability to impose what needs to be done, then there would be hope of those darts at least making it to somewhere close to the dartboard. But the freedom which comes with rules based, market-led liberal democracies does not gel with this sort of authoritarianism.
In fact, many see the capitalist freedoms most closely associated with liberal democracies as the problem. The obsession with the short term, in which companies make profits from 'consumers', and leave the environmental pollution of such spending to be borne by all, just does not work. It is failing us all. Given that those who trust the state rather than the market are typically on the left of the political spectrum, it is no surprise that the environmental movement is often assumed to be a similarly left-wing vote winner. All around Europe, Green parties are seen as left of centre. This can currently be seen in France, where the 'Ecologistes' have joined Melanchon's hard left coalition in the upcoming legislative elections.
The late conservative philosopher Roger Scruton would not agree. In his book Green Philosophy, he makes a compelling case that all the evidence points in the other direction. The preservation of our common environmental heritage to hand on to future generations sits well with being 'conservative'. Furthermore, the marshalling of local activists, insisting through lobbying and the application of the law that our environment should be cared for, has had much greater impact than diktats imposed from on high.
How do Canada Life Asset Management's holdings compare?
What does our own research show? We have kept a close eye on our equity investee companies' evolving plans to tackle the scale of their GHG emissions. Not only do we want such plans to be in place, but for the incentives for management to be aligned with such plans. Even if financial metrics will always predominate in any bonus targets, a complete absence of targets to meet net zero targets is a sign that these plans are not taken seriously. Across our Funds these are the proportions of investee companies having net zero targets and executive incentives: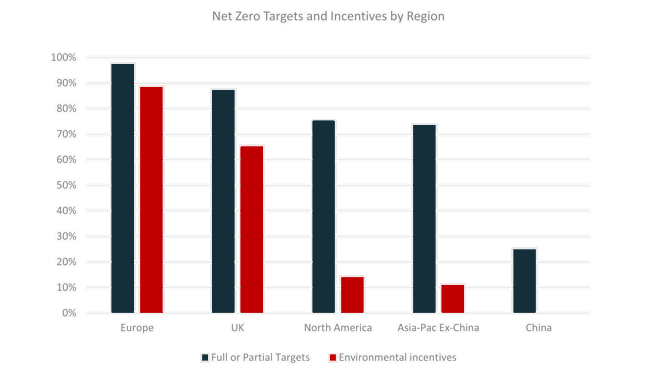 As you can see, our European holdings lead the pack, followed by the UK, North America and Asia-Pacific ex-China, with China lagging well behind everyone else. In Europe, a large proportion of our holdings have some form of GHG emission reduction targets set out, with over 80% of them having executive incentives linked to fulfilling them. Sometimes these incentives are strikingly generous, with one company having the attainment of CO2 reduction goals as a target for its CEO which could trigger a payment of almost €2m. If you have that sort of carrot, the CEO will be paying attention. In China, at the other extreme, not only do the vast majority of companies not have any GHG reduction plans that can be found, but meaningful remuneration reports are absent from public view. If net zero is mentioned at all, it is only in relation to the Chinese state's plans to reach such a position by 2060, but seemingly has no bearing on how a company behaves. When it comes to guidance, the implication is that companies look 'above' to the Party, not to the pressure coming from 'below' from shareholders or citizens without the vote.
Our North American Holdings are halfway between these two extremes, with three quarters of our holdings having some GHG emission reduction targets, but the percentage of holdings having any form of environmental incentives in their executive packages in the low teens. Any incentives that do exist linked to environmental metrics are pretty nominal. It does feel a bit half-hearted.
If the US is the closest the world comes to the freedom which comes with a market-led capitalist economy and China is the closest to a state-led authoritarian approach, then the market-led model wins hands down. Pressure from voters and shareholders does filter through into corporate concerns. But it seems that the combination of boisterous agitation from 'below' from concerned citizens, lobby groups and shareholders, along with policy setting and rules coming from 'above' is the best possible combination.
To adapt the recent electoral slogan, if you want to 'Get Net Zero Done', it seems the EU is the model to follow.
Important Information
The information contained in this document is provided for use by investment professionals and is not for onward distribution to, or to be relied upon by, retail investors.

No guarantee, warranty or representation (express or implied) is given as to the document's accuracy or completeness.
The views expressed in this document are those of the fund manager at the time of publication and should not be taken as advice, a forecast or a recommendation to buy or sell securities. These views are subject to change at any time without notice.
Canada Life Asset Management is the brand for investment management activities undertaken by Canada Life Asset Management Limited, Canada Life Limited and Canada Life European Real Estate Limited. Canada Life Asset Management Limited (no. 03846821), Canada Life Limited (no.00973271) and Canada Life European Real Estate Limited (no. 03846823) are all registered in England and the registered office for all three entities is Canada Life Place, Potters Bar, Hertfordshire EN6 5BA. Canada Life Asset Management Limited is authorised and regulated by the Financial Conduct Authority. Canada Life Limited is authorised by the Prudential Regulation Authority and regulated by the Financial Conduct Authority and the Prudential Regulation Authority.
Expiry date 30/06/23
CLI02121