It has been a torrid time for the UK housing market. We could now see a very strong period of activity, fuelled by pent-up demand, new buying trends and record-low mortgage rates.
UK domestic property transactions in April 2020 were down over 53% year-on-year and more than 10% below the nadir of the Global Financial Crash in January 2009. This was no surprise, given the unprecedented restrictions on personal movement during lockdown and the shuttering of large swathes of the UK economy.
What has surprised many market observers is the speed with which the UK housing market appears to be resurrecting itself. Property website Rightmove reported its busiest day ever on 27th May 2020, up 18% compared to the same date last year.
The number of sales being agreed by agents is currently 47% down compared to 2019, but this is a significant improvement on the 90% crash in year-on-year sales at the height of lockdown.
Furthermore, a survey by Rightmove in May suggests that a new wave of buyers is entering the market, and that we are not simply seeing pent-up pre-lockdown demand. Of respondents who had no plans to move earlier in the year, over a quarter of them (28%) say that they are now planning to do so[1].


Home is where the office is
There could also be a significant change in where people want to live. Since the beginning of 2005, demand for properties in London has caused prices to increase at around twice the rate of the rest of the country. But if working from home catches on in a big way the home counties, or even further afield, could be viable options for reluctant Londoners. Furthermore, should the government follow through on its "levelling up" rhetoric then it is plausible that London house price growth might lag some areas of the country.
Rightmove report that Canterbury and then the coastal areas of Cornwall, Devon and Bournemouth are seeing the biggest jumps in buyer interest, while Warrington, Manchester and Wigan are also attracting strong interest. It will be fascinating to see if this develops into a sustained trend.
UK Property Transactions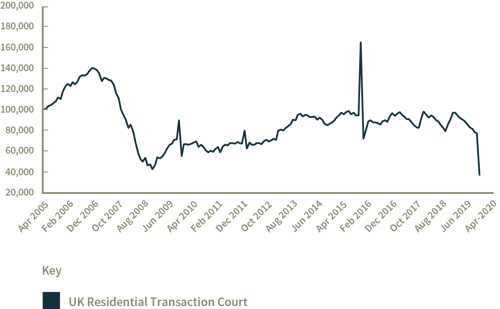 Source: HMRC 31/05/2020
Mortgage rates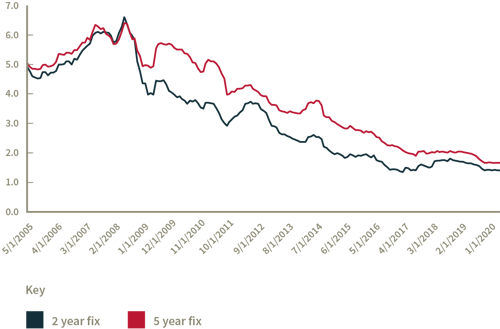 Source: Bank of England 31/05/2020
Could unemployment kill a housing recovery?
A potential fly in the ointment is unemployment. Since 1990, unemployment peaked at 10.6% in March 1993, with a second peak of 8.5% in December 2011 followed a downward trend to just below 4% before the arrival of covid-19.
Unemployment has clearly increased in 2020, but by how much is a matter of speculation. The OBR forecasts that unemployment will reach around 10% this year and diminish again into 2023.
Forecasting accurately is difficult, but ONS Statistical bulletins give clues as to a potential maximum. In their latest reported period 23.5% of employees were furloughed or off sick, an improvement on the previous two-week period[2]. Additionally, the ONS survey suggests less than 1% of businesses ceased trading in the two previous fortnightly periods, and the number of businesses returning to trading increased from 6% to 8%.
The next ONS bulletins should be incrementally more positive and, unless we assume that around 40% of workers across the country who are furloughed ultimately lose their job then, then the OBR's 10% unemployment forecast might prove to be too high.
High levels of unemployment may not appear to be an ideal backdrop for a resurgence in the housing market, but the economic effects of the COVID-19 are not being felt equally across the workforce. Most furloughed workers are in sectors that are likely to be at the lower end of the pay spectrum, and they are therefore more likely to be property renters than owners or potential buyers.
Catching the trend
The collapse in housing transactions is already well below other periods of high unemployment and because of its enforced nature, rather than being due to market forces, could rebound sharply.
The companies benefitting from this would obviously include house builders, but suppliers such as Travis Perkins would also benefit because moving house often triggers home improvements and remodelling. More broadly, building and renovation are labour-intensive activities, and that can only be good for the wider economy.
Housing Transactions vs Unemployment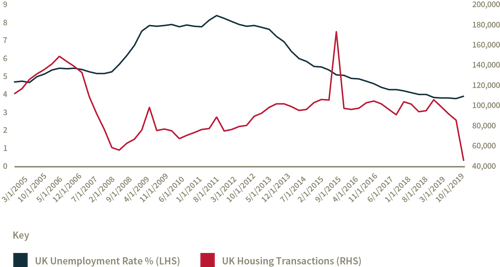 Source (Unemployment) Bloomberg, 31/03/2020
Source (Housing Transactions) HMRC 30/04/2020
[1] Rightmove Press Centre, "Release of pent-up demand leads to busiest ever day as more home-movers enter market".
[2] ONS Statistical Bulletins, 4th-17th May.
Important Information
The value of investments may fall as well as rise and investors may not get back the amount invested.
The information contained in this document is provided for use by investment professionals and is not for onward distribution to, or to be relied upon by, retail investors. No guarantee, warranty or representation (express or implied) is given as to the document's accuracy or completeness. The views expressed in this document are those of the fund manager at the time of publication and should not be taken as advice, a forecast or a recommendation to buy or sell securities. These views are subject to change at any time without notice. This document is issued for information only by Canada Life Asset Management. This document does not constitute a direct offer to anyone, or a solicitation by anyone, to subscribe for shares or buy units in fund(s).
Canada Life Asset Management is the brand for investment management activities undertaken by Canada Life Asset Management Limited, Canada Life Limited and Canada Life European Real Estate Limited. Canada Life Asset Management Limited (no. 03846821), Canada Life Limited (no.00973271) and Canada Life European Real Estate Limited (no. 03846823) are all registered in England and the registered office for all three entities is Canada Life Place, Potters Bar, Hertfordshire EN6 5BA. Canada Life Asset Management is authorised and regulated by the Financial Conduct Authority. Canada Life Limited is authorised by the Prudential Regulation Authority and regulated by the Financial Conduct Authority and the Prudential Regulation Authority.
Expiry date: 23 June 2021
Job number: CLI01652