Spare a thought for the UK's beleaguered banks. COVID-19 has not triggered a financial crisis, but banks will find it difficult to make money. At the same time, they are being called upon to support and revitalise a badly bruised economy.
The banking system is large and complex. The business of banking, however, is quite simple. First, borrow short-dated debt from lenders, i.e. from anyone who puts money into a bank account. Secondly, lend these funds out for a long time at a higher rate of interest. Third, collect the interest and hope to get repaid the capital at the end of the term.
When short rates (the red line in the chart below) are below long rates (the blue line) banks can make a nice spread (the grey bars) on the difference. So far, so good.
The problem that the banks currently face is depicted clearly in the chart below.  With interest rates at historically low levels and expected to stay "lower for longer" the banks' ability to make a profit from the difference between short- and long-term rates is squeezed severely.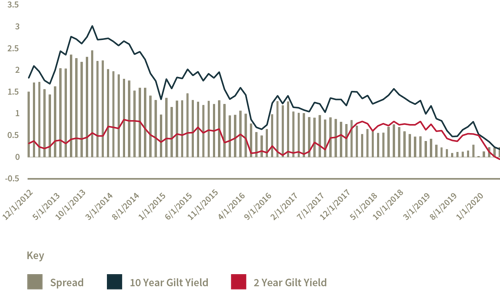 Source: Bloomberg as at 30/05/2020
The banks are therefore in the reverse situation of the governments. Whereas governments' borrowing costs have been dramatically reduced, allowing them to replace maturing gilts with lower cost ones, the banks are seeing high-margin loans maturing and being replaced with low-margin new business. Furthermore, with the absolute level of short rates at such low levels, the banks have run out of room to reduce deposit rates to mitigate the effects of compressing spreads on their profitability.
Government-backed lending schemes may also be a headwind for the banks if businesses use the schemes to finance projects that they would have undertaken anyway using traditional bank loans. Businesses could benefit from very low cost loans, while the banks are left to facilitate very low or zero margin business that also lands them with the responsibility, cost and political risk of collecting repayments.
In addition, we have yet to see the phasing out of the government furlough scheme and the effect this will have on the multitude of businesses that are using it.
Lastly, the banks have been instructed to offer payment holidays on mortgages and credit cards.  It is yet to be seen how many of these payment holidays, which are not currently being treated as non-performing, turn out to be just that.
Stressed, but Coping
On a more positive note, the UK's major banks entered this crisis with strong balance sheets, and the majority of their lending secured, so it is entirely plausible that they will be able to take the strain without requiring more equity.
The Bank of England's stress test in May estimated that under its stress scenario the banks would draw down 45% of their available capital buffers above the minimum regulatory requirement, again supporting the idea they won't need any more capital. These are aggregate numbers so should be treated with some caution. The regulator is, quite rightly, very prudent and we could be waiting quite a while for UK bank dividends to reappear.
All the major UK banks currently trade below their book value and worries about bad debts may not come to pass. This could make for interesting long-term investments but, for the time being at least, we will be treading carefully in the banking sector.
Important Information
The value of investments may fall as well as rise and investors may not get back the amount invested.
The information contained in this document is provided for use by investment professionals and is not for onward distribution to, or to be relied upon by, retail investors. No guarantee, warranty or representation (express or implied) is given as to the document's accuracy or completeness. The views expressed in this document are those of the fund manager at the time of publication and should not be taken as advice, a forecast or a recommendation to buy or sell securities. These views are subject to change at any time without notice. This document is issued for information only by Canada Life Asset Management. This document does not constitute a direct offer to anyone, or a solicitation by anyone, to subscribe for shares or buy units in fund(s).
Canada Life Asset Management is the brand for investment management activities undertaken by Canada Life Asset Management Limited, Canada Life Limited and Canada Life European Real Estate Limited. Canada Life Asset Management Limited (no. 03846821), Canada Life Limited (no.00973271) and Canada Life European Real Estate Limited (no. 03846823) are all registered in England and the registered office for all three entities is Canada Life Place, Potters Bar, Hertfordshire EN6 5BA. Canada Life Asset Management is authorised and regulated by the Financial Conduct Authority. Canada Life Limited is authorised by the Prudential Regulation Authority and regulated by the Financial Conduct Authority and the Prudential Regulation Authority.
Expiry date:  26/06/2020
Job number: CLI01655