Rising yields could be good news for companies with defined benefit pension scheme deficits and for insurers that buy out unwanted schemes.
Defined benefit (DB) pensions are understandably viewed as a millstone around the neck of any CFO lumbered with one.  Often in deficit and sometimes hugely so, they can consume vast amounts of cash and management time.  
Some well-known examples of pension nightmares such a BHS and British Steel render a pension deficit a barrier to investing in the sponsoring company. This could be about to change, presenting contrarian investors with two related investment opportunities:
If yields continue to rise, billions of pounds of pension liabilities will simply vanish and remove a major barrier to investing in companies saddled with DB scheme deficits.
Insurance companies that buy out defined benefits pension schemes could see increasingly attractive returns on their investments.
The vanishing act
The primary input for valuing DB scheme liabilities is bond yields, which actuaries use as a basis for setting scheme discount rates. This is illustrated below using BAE Systems as an example. The direction of bond yields matters, because lower yields drive down discount rates and increase pension liabilities.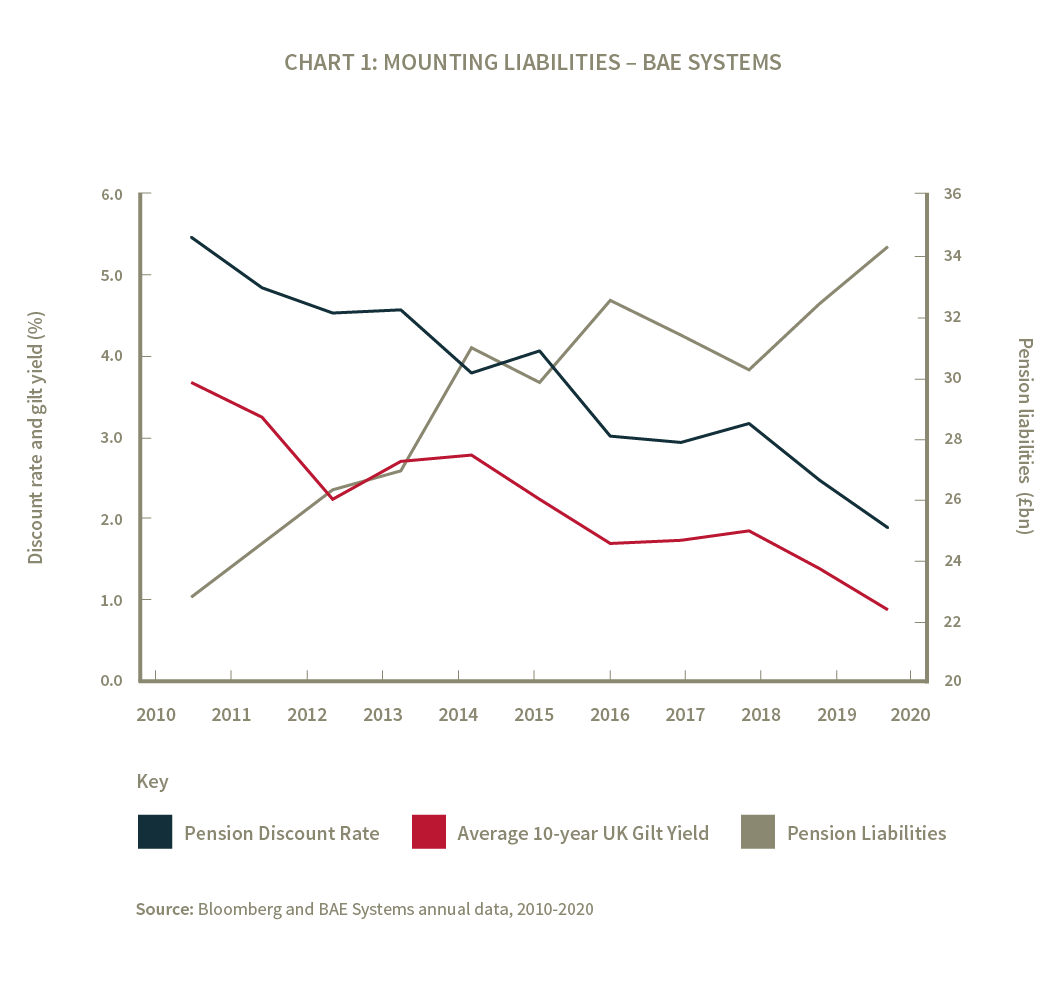 We have got used to ever-lower interest rates and bond yields but this isn't necessarily sustainable. There are good reasons to suggest that yields have bottomed out and could rise for an extended period.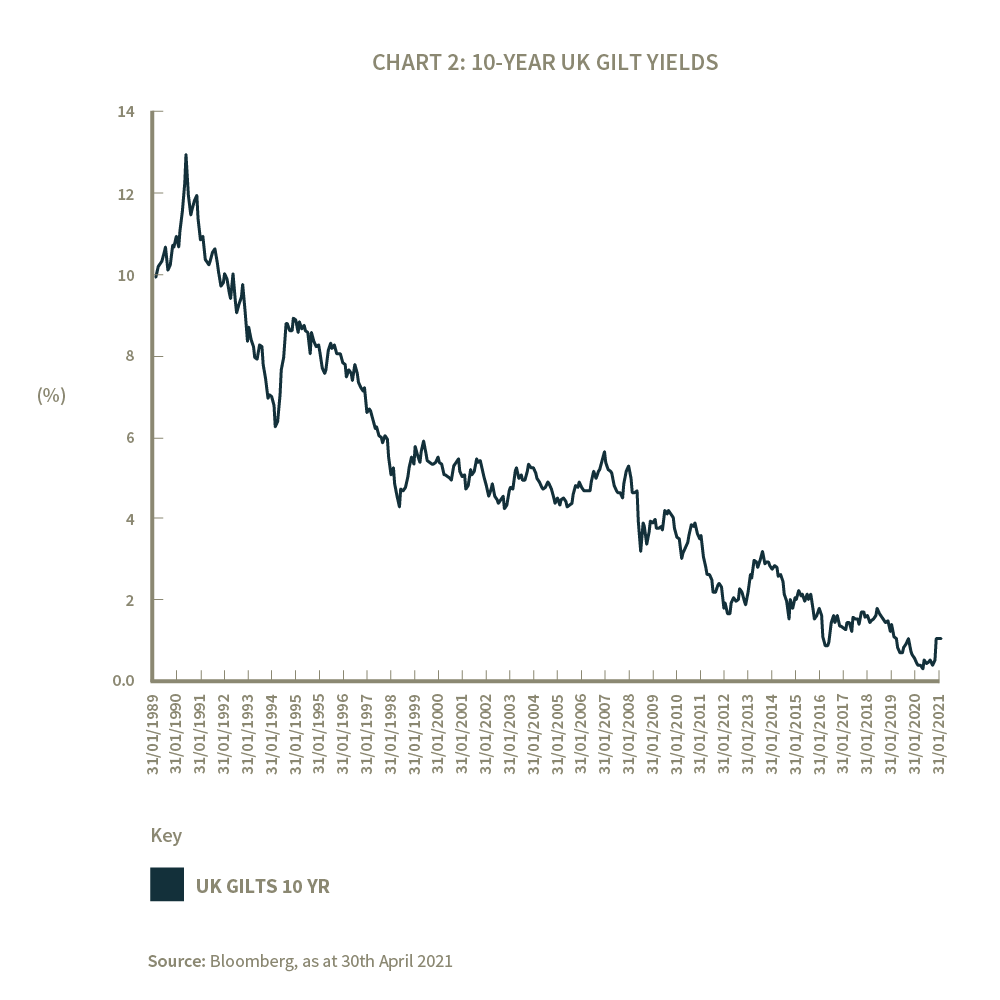 The Pension Protection Fund (PPF), which is the last line of defence for pension schemes of insolvent companies, monitors the condition of pension schemes that might be eligible for its services and publishes the data. Chart 3 shows that DB scheme assets (black line) monitored by the PPF have broadly increased over time as contributions are made and returns are earned. The liabilities (red line) have moved around wildly based on many different factors, but the downward direction of bond yields has been a major driver of the upward trajectory. Chart 4 illustrates that, in aggregate, DB schemes are in surplus for the first time in a decade.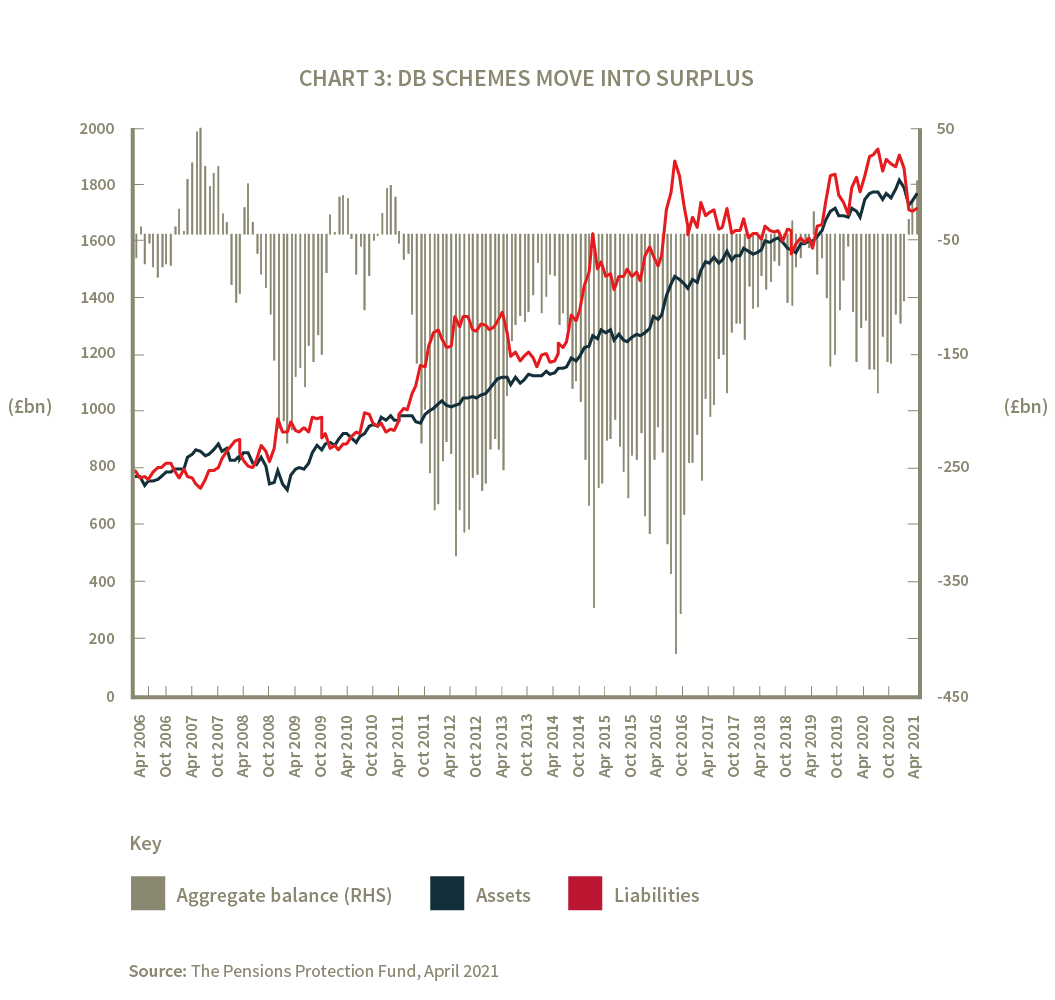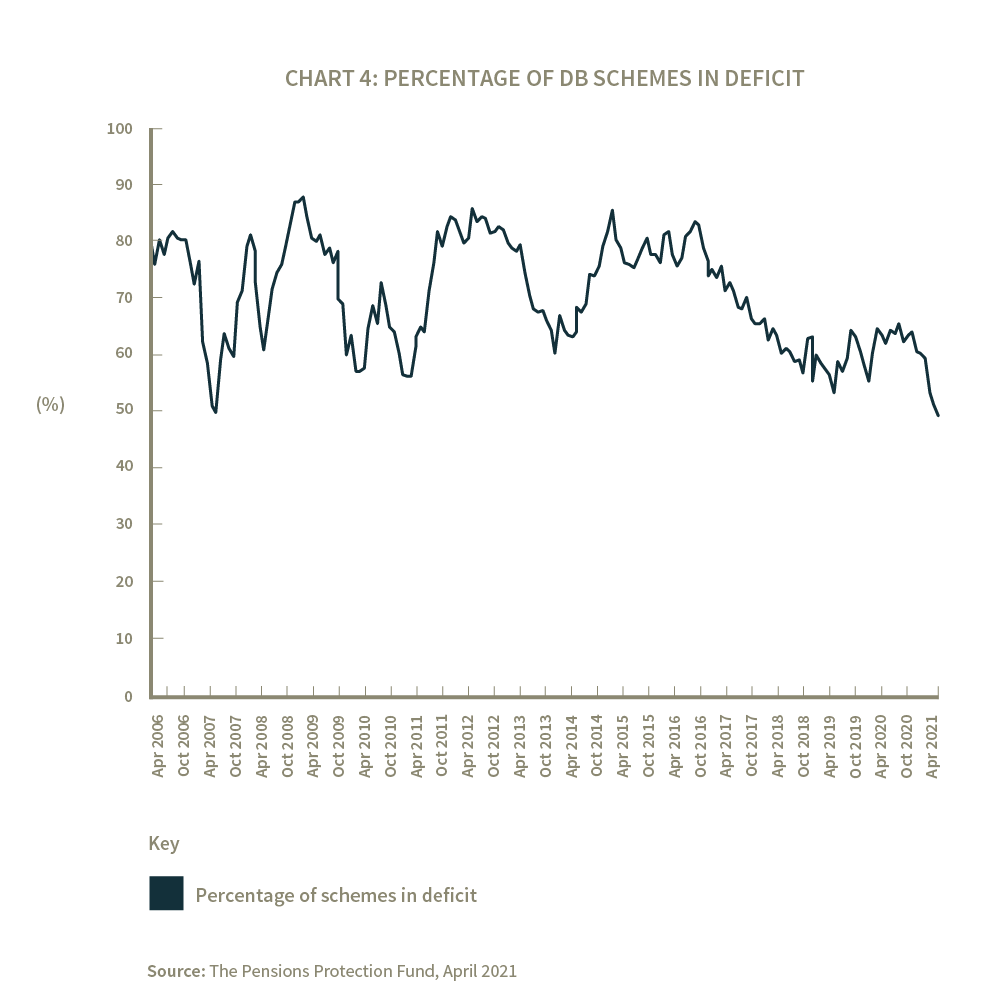 These trends are still in their early stages but the health of the UK's defined benefit pension schemes has already improved markedly after a relatively small increase in bond yields. If current trends persist then the whole problem could evaporate like the morning mist, freeing up cash flow and management time for many companies. All else being equal, if the discount rate on BAE's UK DB scheme were to rise to 2018 levels then the company's pension deficit would be gone.
A retirement home for retirement schemes
Few company CFOs like dealing with pension schemes, funded or otherwise. They don't directly add any value to shareholders and they take up lots of time. If, however, a sponsoring company's pension scheme moves from a deficit to a surplus the company may be able to stop making contributions to the scheme or even arrange a pension scheme buyout. The latter involves selling a DB scheme's assets and liabilities to an insurance company. The insurer will typically assess the liabilities, match the cash outflows required for paying pensions with cash inflows from assets and provide enough growth in the fund to pay future commitments plus a profit margin.
This market doesn't attract much mainstream attention but it's big, with uninsured liabilities of £2.3trn in the UK, £6.5trn globally and a further £240bn of UK buyouts predicted over the next five years. It is also an attractive business for insurers that can provide mid-teens internal rates of return on capital.
With attractive characteristics like these you might expect insurance companies to be highly rated investments. Far from it. The market leader, Legal & General, trades on a P/E ratio of less than 9x and offers a dividend yield of almost 7%, while Just Group trades on a P/E of less than 7x and around half its tangible book value. We hold both companies in the LF Canlife UK Equity Income Fund.
The stock market has spent a long time worrying about the balance sheets of these two companies and about life assurers generally, but they have proved that the assets that back the liabilities are robust, well managed and extremely tightly regulated. They are ripe for re-rating.
Important Information
Past performance is not a guide to future performance. The value of investments may fall as well as rise and investors may not get back the amount invested. Income from investments may fluctuate. Currency fluctuations can also affect performance.
Due to the underlying assets held, the price of the LF Canlife UK Equity Income Fund is classed as having above average to high volatility.
The information contained in this document is provided for use by investment professionals and is not for onward distribution to, or to be relied upon by, retail investors. No guarantee, warranty or representation (express or implied) is given as to the document's accuracy or completeness. The views expressed in this document are those of the fund manager at the time of publication and should not be taken as advice, a forecast or a recommendation to buy or sell securities. These views are subject to change at any time without notice. This document is issued for information only by Canada Life Asset Management.
This document does not constitute a direct offer to anyone, or a solicitation by anyone, to subscribe for shares or buy units in fund(s). Subscription for shares and buying units in the fund(s) must only be made on the basis of the latest Prospectus and the Key Investor Information Document (KIID) available at https://www.canadalifeassetmanagement.co.uk/
Canada Life Asset Management is the brand for investment management activities undertaken by Canada Life Asset Management Limited, Canada Life Limited and Canada Life European Real Estate Limited. Canada Life Asset Management Limited (no. 03846821), Canada Life Limited (no.00973271) and Canada Life European Real Estate Limited (no. 03846823) are all registered in England and the registered office for all three entities is Canada Life Place, Potters Bar, Hertfordshire EN6 5BA. Canada Life Asset Management Limited is authorised and regulated by the Financial Conduct Authority. Canada Life Limited is authorised by the Prudential Regulation Authority and regulated by the Financial Conduct Authority and the Prudential Regulation Authority.
CLI01884 Expiry on 20/05/2022