Mixed use with clear results: Reimagining the shopping centre
When British Home Stores (BHS) went out of business in 2016, it left a void on high streets and in shopping centres across the country. At its height, the Arcadia-owned department store had close to 200 stores and was an anchor tenant for many retail schemes, generating heavy footfall that benefited every retailer around it. Until it was gone.
The loss of BHS was not simply a one-off. In the past five years, the number of department stores in the UK has shrunk dramatically, leaving unoccupied buildings up and down the country. This is not just a problem for consumers who may feel they have less choice. It has also presented property owners, developers and managers with the challenge of what to put in those empty spaces: to re-energise them and to ultimately make them income producing once again.
As one of those property owners, Canada Life Asset Management decided that, rather than finding a like-for-like replacement, the answer was to follow more recent consumer trends and consider leisure and lifestyle operators for the space. The loss of BHS as an anchor tenant in Cheltenham's Regent Arcade was a sizeable blow given that the store comprised just over a quarter of the shopping centre's lettable floor space, yet it was also an opportunity to re-position the space and in turn re-position the centre as a whole.
Targeting leisure and lifestyle
The product of all that hard work is a retail and leisure space that has adapted to an observed societal shift towards individual and group experiences, rather than a continued accumulation of material goods and possessions. While spending habits are constantly evolving, several new trends have emerged from the pandemic. The first is that people are seeking more social experiences and have a desire to reconnect with friends and family, and the other is a greater emphasis on health, fitness and wellbeing.
The BHS store in Cheltenham's Regent Arcade extended to just over 50,000 square feet across ground and basement levels, anchoring the rear of the scheme. Today the same space serves two purposes: as a five-screen boutique luxury cinema operated by Tivoli (Empire Cinemas) and as a Decathlon lifestyle sports store. Tivoli's luxurious interiors and 1930s art deco styling have proved popular with cinema goers, diners and hospitality clients. In a world of inexpensive streaming, Tivoli is an example of how cinemas can remain relevant as attractive leisure destinations with a sense of occasion, by offering a great film experience in a comfortable environment alongside stylish bars and cafés. The other half of the space is occupied by Decathlon, the French retailer's first store in the South West. Both companies are emblematic of evolving consumer tastes, with an increased emphasis on healthy, active lifestyles and leisure experiences.
Much has been written over the past decade about the deterioration of the high street as online shopping has risen in importance. While that is true to a certain extent, it is not the full story. The high street isn't dead; it's just different. Data from the Office for National Statistics show online sales accounted for around 28% of all retail sales at the end of 2021. That is a substantial number that will continue to rise, but it also means at least 70% of all sales still take place in bricks and mortar shops.
"It's not true that all retail and leisure operators are suffering," says Joanna Turner, Head of Property Research at Canada Life Asset Management. "Traditional retail and leisure that has fallen behind current tastes may not be doing so well, but those that are following current trends are doing far better. Consumers still want to spend money on what interests them. We are social animals and people want to go out, socialise and enjoy something special, especially now."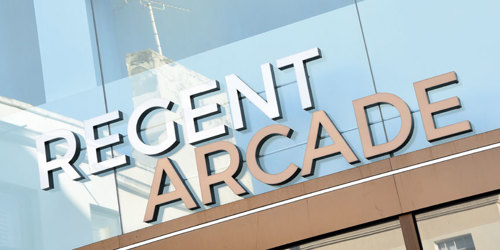 Unlocking value
Our aim with this project was to broaden and diversify the customer offer at Regent Arcade so that it catered for new tastes, offered genuine appeal to customers and unlocked value in the leisure and lifestyle segment. Since opening in Q4 2021, Tivoli and Decathlon have both contributed to a significant improvement in footfall. The Christmas trading period was a major success, with footfall levels nearing those seen in December 2019, despite concerns around the Omicron variant of COVID-19 and the re-introduction of some restrictions.
The upgrades are not only a success with customers and tenants, but they have also been beneficial for Canada Life Asset Management. The fresher and more contemporary retail and leisure formats have provided a substantial boost to rental income.
The redevelopment works have brought just over 50,000 square feet of space back into use. Further improvements to the scheme are to follow, including the creation of a new rooftop bar and restaurant, further expanding the centre's leisure offer.
"Historically, this area would have just been traditional retail floorspace," says Michael White, Head of UK Property at Canada Life Asset Management. "Now, lifestyle and leisure options are becoming really important in making shopping centres more attractive places for local communities and visitors that continue to deliver sustainable returns for investors."
"Over the past few years, we have worked closely with our leasing team and project managers to repurpose this large empty former department store and unlock the inherent value within," says Richard Nichol, Senior Asset Manager at Canada Life Asset Management. "This project has transformed the rear section of the scheme, taking a single retail unit and turning it into a space that enables leisure experiences, whether in the cinema or indeed outdoors. With Regent Arcade seeing increased footfall levels as a result, the repositioning of this space has been an undoubted success, which should result in the centre coming out of the pandemic stronger than it was at the beginning."
Looking ahead, we expect to continue to see similar transformations taking place in retail spaces around the country. The way people shop and spend their money is changing and our shopping malls and high streets must constantly adapt to serve new tastes.
Important Information
Past performance is not a guide to future performance. The value of investments may fall as well as rise and investors may not get back the amount invested. Income from investments may fluctuate.
The information contained in this document is provided for use by investment professionals and is not for onward distribution to, or to be relied upon by, retail investors. No guarantee, warranty or representation (express or implied) is given as to the document's accuracy or completeness. The views expressed in this document are those of the fund manager at the time of publication and should not be taken as advice, a forecast or a recommendation to buy or sell securities. These views are subject to change at any time without notice. This document is issued for information only by Canada Life Asset Management. This document does not constitute a direct offer to anyone, or a solicitation by anyone, to subscribe for shares or buy units in fund(s). Subscription for shares and buying units in the fund(s) must only be made on the basis of the latest Prospectus and the Key Investor Information Document (KIID) available at https://www.canadalifeassetmanagement.co.uk/
The LF Canlife UK Property ACS is an Authorised Contractual Scheme and is suitable for institutional and professional investors. The fund invests in assets that may at times be hard to sell. This means that there may be occasions when you experience a delay or receive less than you might otherwise expect when selling your investment. For more information on risks see the prospectus and key investor information document.
Requests for redemptions of units are subject to a notice period of up to 185 days. In normal market conditions this notice period is waived at the discretion of the manager and units can be sold without giving notice.  The value of property is generally a matter of a valuer's opinion rather than fact. Costs of buying and selling real property are generally much higher than for other types of assets. Property investments may be subject to significantly wider price spreads than bonds and equities which could affect the valuation of the fund by up to 8.00 %.
Canada Life Asset Management is the brand for investment management activities undertaken by Canada Life Asset Management Limited, Canada Life Limited and Canada Life European Real Estate Limited. Canada Life Asset Management Limited (no. 03846821), Canada Life Limited (no.00973271) and Canada Life European Real Estate Limited (no. 03846823) are all registered in England and the registered office for all three entities is Canada Life Place, Potters Bar, Hertfordshire EN6 5BA. Canada Life Asset Management Limited is authorised and regulated by the Financial Conduct Authority. Canada Life Limited is authorised by the Prudential Regulation Authority and regulated by the Financial Conduct Authority and the Prudential Regulation Authority.
CLI02045
Expiry 14/02/2023