Technology stocks have become the growth engine of investment, and are also providing new safe havens for hard times. Having the ability to invest skilfully in tech is now a must-have for multi-asset funds.
Equities are the key generators of capital growth in most multi-asset funds. In recent years, a large proportion of that growth has been provided by US equities. As chart 1 below shows, the US has shown other major equity markets a clean pair of heels over the past five years. However, a closer look at what has been happening in the US reveals a rather different picture.
The US leads equity markets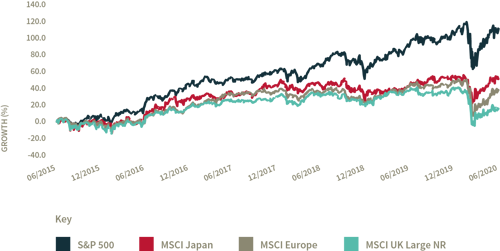 Past performance is not a guide to future performance. The value of investments may fall as well as rise and investors may not get back the amount invested. Income from investments may fluctuate. Currency fluctuations can also affect performance. Source: Morningstar, Performance from 01/07/2015 to 30/06/2020. Sterling returns.
Chart 2 shows that most of the equity returns in the US have been in the tech-focused NASDAQ, which has completely outstripped the broader S&P500 Index and left tech-light markets such as the FTSE100 in the dust.
And the NASDAQ leads the US equity market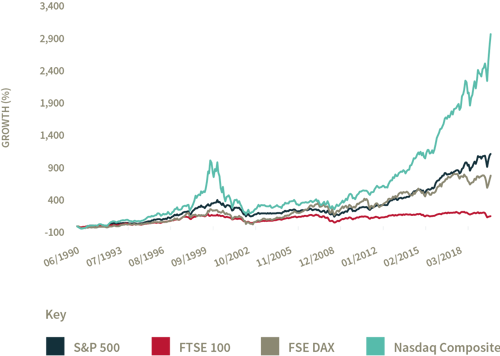 Past performance is not a guide to future performance. The value of investments may fall as well as rise and investors may not get back the amount invested. Income from investments may fluctuate. Currency fluctuations can also affect performance. Source: Morningstar, Performance from 30/06/1990 to 30/06/2020. Sterling returns.
This is just the beginning
We are living in a time of rapid change, when technological innovation is transforming how we live and work more rapidly than ever before. The pandemic has accelerated this trend as companies (and an army of freelancers) invest in systems and processes with the aim of remaining competitive in the face of economic stasis, while governments look to technology for ways to rekindle economic growth.
There are many reasons to like technology stocks. As a group, they are growing much faster and more sustainably than the wider market. In some cases, even large tech companies are achieving revenue growth rates of 20-40%. This is unusually high, especially in the eyes of investors who are more attuned to traditional business models in which high-growth smaller companies generally become lower-growth large companies.
Alongside healthcare, tech stocks held up well during the savage downturns in March and led the subsequent rebound. The scramble for tech investments in 2020 produced strong price momentum, which had in fact been building since the third quarter of 2019, raising suggestions that we could entering a tech bubble. Recently, however, we seen technology stock prices pull back somewhat and consolidate.
We welcome this pause, which could presage a return to trend growth. We remain comfortable with our current technology investments, which focus on high-quality large and mid-cap companies. The reasons we invest in these companies are not determined by short-term market movements, but are grounded in long-term social trends that will continue for many years.
Themes of the future
'Tech' is a very short word for such a variety of industries, markets, specialisms and business models. This variety and complexity not only presents a wide choice of potential investments; it also underscores the need for genuinely insightful investment knowledge of the industries and companies involved.
Most of us are familiar with using e-commerce to buy products and services, and many of us recently become experts in technology related to working from home, home schooling and staying in touch with the wider world during lockdown. However, there are also much less visible but impactful trends that many people do not yet come across, or notice, as part of their everyday lives.
One of our most favoured tech areas is the handful of companies who manufacture the semiconductors needed for digital technology to function. 5G networks, artificial intelligence, automation of warehouses, gaming and working from home all require a range of different chips produced by Samsung, Intel and TSMC.
We also like Netherlands-based ASML, a world leader in specialist lithography used to develop more powerful semiconductors and Nvidia, which designs specialist graphics processing units used in high growth areas such as gaming, machine learning (AI) and autonomous driving. In the area of chip design we have shares in Cadence Design Systems, a recession-resistant firm which designs chips for other companies.
We see strong investment potential in the adoption of cloud computing. For its users it provides access to their digital 'stuff' wherever they have an internet connection. For companies, cloud computing can increase efficiency through access to data and also significantly reduce company investment spending on servers, networks and IT personnel.
Lastly, the hum-drum activity of shifting money from one account to another should not be overlooked. The use of digital payment in many countries is still extremely low, and digital transactions are expected to grow by 17% per annum to over US$8 trillion in 2024.[1]
COVID-19 was detrimental to digital payments companies as a result of reduced consumer spending and cross-border cash flows. Over the longer term, however, consumer spending will rise again. We believe that this is a good window of opportunity in which to add to our digital payments holdings, as larger players consolidate their positions in the market through mergers and takeovers.
The new defensives
Many investors of a certain age are attuned to thinking of technology companies as high-risk ventures in which fortunes may be made, and lost with ease. However, the collapse of equity markets in March and their subsequent rebound brought home the extent to which a number of technology companies are now indispensable to our way of life, making them highly defensive portfolio holdings.
In previous falling markets investors turned to consumer staple goods companies such as Unilever to help them weather the storm. The world's Unilevers are still popular defensive holdings, but they have been joined by a number of tech companies that enjoy high levels of repeat business.
To give just one example: whatever the economic weather, companies need to pay for software subscriptions (and may actually increase software spending in a bid to become more efficient) and it is a rare individual who decides to turn off their Facebook or YouTube account.
Because of their high customer retention rates and consequently predictable cash flows, software companies such as Adobe that use subscription business models usually command the highest valuations in the tech sector. As their highest cost is writing software, which can then be sold repeatedly via downloads, software companies can produce incremental margins of close to 100%. Unlike the toothpaste makers, software companies do not need to manufacturer a new item for each customer and transport it laboriously to where it is needed.
There is plenty of cash to fuel innovation
The fact there is plenty of funding available for new technology ideas may seem counterintuitive, given that the world has just experienced one of the largest economic shocks on record, However, one of the effects of continuing quantitative easing and abnormally low interest rates is the presence of large amounts of cash owned by investors seeking better returns than those available from bonds and broad equity markets.
Some of this money has found its way into funding a plethora of new business ideas, particularly tech-related enterprises. Many of them have not worked out, but some have (Airbnb and Uber, to name just two examples) and the level of funding available to them from willing backers has enabled them to grow very quickly.
In the wake of COVID-19, low interest rates and economic stimulus packages will be with us for some time to come. We fully expect that there will continue to be plenty of funding available for tech enterprises, creating some exceptional new companies.
Important Information
The value of investments may fall as well as rise and investors may not get back the amount invested.
The information contained in this document is provided for use by investment professionals and is not for onward distribution to, or to be relied upon by, retail investors. No guarantee, warranty or representation (express or implied) is given as to the document's accuracy or completeness. The views expressed in this document are those of the fund manager at the time of publication and should not be taken as advice, a forecast or a recommendation to buy or sell securities. These views are subject to change at any time without notice. This document is issued for information only by Canada Life Asset Management. This document does not constitute a direct offer to anyone, or a solicitation by anyone, to subscribe for shares or buy units in fund(s). Subscription for shares and buying units in the fund(s) must only be made on the basis of the latest Prospectus and the Key Investor Information Document (KIID) available at www.canadalifeassetmanagement.co.uk.
Canada Life Asset Management is the brand for investment management activities undertaken by Canada Life Asset Management Limited, Canada Life Limited and Canada Life European Real Estate Limited. Canada Life Asset Management Limited (no. 03846821), Canada Life Limited (no.00973271) and Canada Life European Real Estate Limited (no. 03846823) are all registered in England and the registered office for all three entities is Canada Life Place, Potters Bar, Hertfordshire EN6 5BA. Canada Life Asset Management is authorised and regulated by the Financial Conduct Authority. Canada Life Limited is authorised by the Prudential Regulation Authority and regulated by the Financial Conduct Authority and the Prudential Regulation Authority.
Canada Life multi-asset funds may invest in property funds that may be illiquid and subject to wide price spreads, both of which can impact the value of the fund. The value of the property is based on the opinion of a valuer and is therefore subjective.
Charts: Data Source - © 2019 Morningstar, Inc. All Rights Reserved. The information contained herein: (1) is proprietary to Morningstar and/or its content providers; (2) may not be copied or distributed; and (3) is not warranted to be accurate, complete or timely. Neither Morningstar nor its content providers are responsible for any damages or losses arising from any use of this information.
Expiry date:  06/08/2021
Job number: CLI01694
[1] https://www.statista.com/outlook/296/100/digital-payments/worldwide