The past five years may prove to have been a great buying opportunity for UK equity investors, particularly among mid-caps, says Nigel Kennett, manager of the LF Canlife UK Equity Fund.
The UK market is often perceived as a collection of yesterday's low-growth companies that has only recently staggered its way back to pre-pandemic levels, while the tech-heavy S&P has powered ahead to new all-time highs. While this may be a fair observation of the large cap index, it is not the case for the faster growing MSCI UK Mid Cap Index.
UK Mid-Caps Outperform UK Equity Market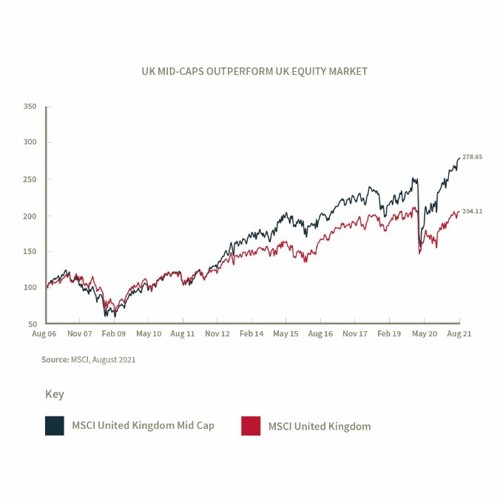 UK equities' meandering progress since the 2016 Brexit referendum may prove to be something of an anomaly. In our view, the highly uncertain past few years could prove to have been a buying opportunity for active UK equity investors that could pay off handsomely over the coming years.
Overseas investors were largely baffled by the UK electorate's decision in 2016 to leave the EU and dismayed by the subsequent political wrangling and decline in sterling. They left the UK market in droves, with the result that UK equities have de-rated strongly since the 2016 Brexit vote.
UK equities are currently trading at their lowest forward P/E level versus global peers in the last two decades (see below). The last two times the UK traded at an extreme P/E discount it beat the global benchmark over the following 12 months.
MSCI UK Equity Index 12-month Forward P/E Relative to MSCI World Index
2021 UK Equity Dividend Estimates beat other Major Markets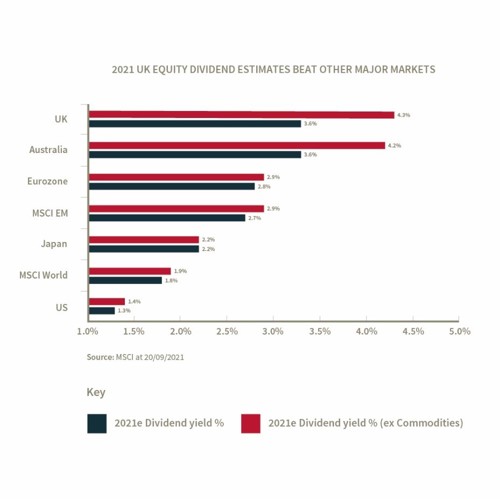 Three powerful forces
Following the announcement of the Brexit deal on Christmas Eve last year, three powerful forces – a rebounding economy, a strengthening of sterling and a sense of greater political stability – all give good reason for optimism. This is further supported by the UK's success of the vaccination programme, providing plenty of good reasons for overseas investors to move back into UK equities.
This backdrop, together with modest UK equity valuations this has undoubtedly prompted the marked increase in takeovers for UK companies that we have seen over recent months, and we believe this looks set to continue.
We are particularly optimistic about the outlook for the UK's domestically focused companies, many of which feature in the MSCI Mid Cap Index and include a number of truly innovative and entrepreneurial companies that are capable of providing strong long-term growth.
These include names such as Future (the fund's current largest active mid cap position), Dechra Pharmaceuticals (a global leader in veterinary medicines) and Keyword Studios (services to the fast-growing gaming industry) amongst others.
Former highly successful mid-cap companies which have graduated to the large cap index include JD Sports (structural growth athleisure retailer) and Autotrader (structural growth online retailer of cars). It is our belief that, in due course, Future and Dechra will also feature among the list of graduates to the large cap section of the market. All these names have been key contributors to the performance of the LF Canlife UK Equity Fund in recent years.
Themes, not memes
In contrast to the UK's roster of large-cap global players, many UK mid-caps offer purer exposure to the UK economy. With around 65% of earnings flowing from UK sales mid-caps are generally better placed to benefit from the UK's economic rebound. The UK mid-cap market also provides a diverse set of companies and industries that lends itself to active management and to the LF Canlife UK Equity Fund's thematic investment approach.
The Fund invests across the UK's large-cap and mid cap equity markets, targeting longer-term investment ideas in areas such as e-commerce, digitisation, healthcare, housing and leisure. It usually holds around 70 stocks and currently has over 14% of the portfolio invested in the mid cap arena.
The LF Canlife UK Equity Fund's flexible remit enables us to invest in a style-agnostic way across growth, quality, value and momentum factors. By focusing on market leaders with dominant brands we aim to benefit from pricing power, the ability of leading companies with significant market share to pass rising costs to their customers and suppliers. In the event of rising inflation, this naturally adds a measure of protection and opportunity to our holdings.
Important Information
Past performance is not a guide to future performance. The value of investments may fall as well as rise and investors may not get back the amount invested. Income from investments may fluctuate. Currency fluctuations can also affect performance.
Due to the underlying assets held, the price of the LF Canlife UK Equity Fund is classed as having above average to high volatility.
The information contained in this document is provided for use by investment professionals and is not for onward distribution to, or to be relied upon by, retail investors. No guarantee, warranty or representation (express or implied) is given as to the document's accuracy or completeness. The views expressed in this document are those of the fund manager at the time of publication and should not be taken as advice, a forecast or a recommendation to buy or sell securities. These views are subject to change at any time without notice. This document is issued for information only by Canada Life Asset Management. This document does not constitute a direct offer to anyone, or a solicitation by anyone, to subscribe for shares or buy units in fund(s). Subscription for shares and buying units in the fund(s) must only be made on the basis of the latest Prospectus and the Key Investor Information Document (KIID) available at https://www.canadalifeassetmanagement.co.uk/.
Canada Life Asset Management is the brand for investment management activities undertaken by Canada Life Asset Management Limited, Canada Life Limited and Canada Life European Real Estate Limited. Canada Life Asset Management Limited (no. 03846821), Canada Life Limited (no.00973271) and Canada Life European Real Estate Limited (no. 03846823) are all registered in England and the registered office for all three entities is Canada Life Place, Potters Bar, Hertfordshire EN6 5BA. Canada Life Asset Management Limited is authorised and regulated by the Financial Conduct Authority. Canada Life Limited is authorised by the Prudential Regulation Authority and regulated by the Financial Conduct Authority and the Prudential Regulation Authority.
CLI01965 Expiry on 06/01/2022