As a standalone asset class, cash is often deemed to be homogenous and – when left on deposit – it is. However, the wider money market is anything but. The assets bought in the £670m LF Canlife Sterling Liquidity Fund for example, include covered bonds, floating rate notes, government issues, certificates of deposit and commercial paper – with maturities ranging from one day to 24 months. This range of asset types and maturities enables the Fund to provide liquidity when needed (the Fund settles on a T+1 basis supported by its holdings in one day to one week maturities), capital stability and extra yield.
We achieve this through our focus on asset allocation & fundamental research of individual credit issuers. For example, significant yield pick-up can be achieved by focusing on the right type of asset at the right time. At present, there are dislocations between sterling corporate bond issues (which are priced off gilts) and sterling commercial paper issues (which are priced off SONIA). In the current environment, some of the aforementioned bond issues are significantly more expensive than their commercial paper counterparts, for near-identical maturities. One illustration of this from the LF Canlife Sterling Liquidity Fund is our purchase of a commercial paper issue from the Council of Europe Development Bank – maturing on 23rd June 2022 – at an annualised yield of 0.91%. If we were to buy the corporate bond that matures on the 15th June, we would achieve a yield of just 0.71%. Interestingly, this asset situation was reversed at times last year. For example we purchased a Nationwide April 2022 bond at 0.32% in May 2021, at a time when Nationwide were issuing the same maturity commercial paper at 0.06%. This highlights how active asset allocation, not just security selection, can add significant value in the liquidity space. Indeed, the table below highlights some different types of assets held in the Fund, as well as the different attributes that are beneficial within the portfolio.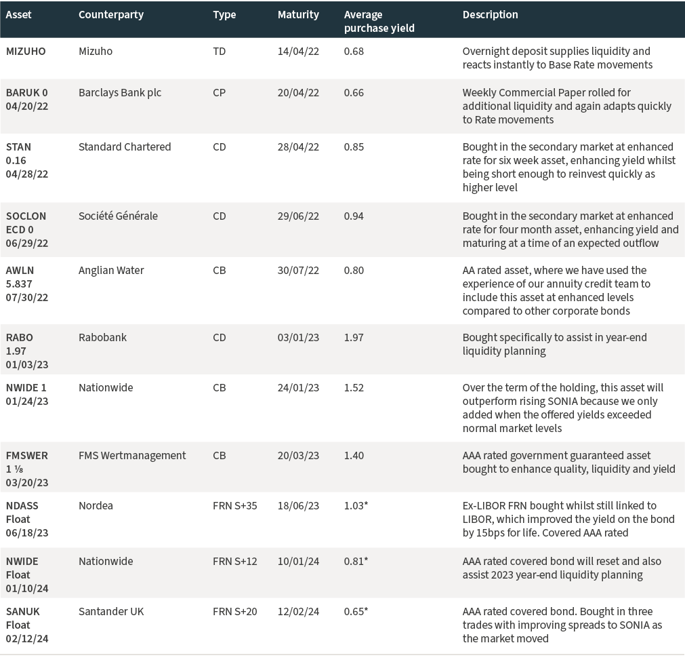 Source: Canada Life Asset Management, April 2022. *Current following reset. TD = time deposit, CP = commercial paper, CD = certificate of deposit, CB = corporate bond, FRN = floating rate note. S+35 = SONIA + 35bps.
Of course, despite the recent move upward in rates witnessed across the developed world, the absolute returns available on these assets remain relatively low when compared to historical standards. However, as global central banks tighten, we believe money market funds continue to provide defensive ballast across portfolios, particularly whilst equities and fixed income struggle in a scenario of geopolitical strife and higher inflation. What's more, the liquidity provided enables investors to quickly act on market falls and add to their favoured areas at more attractive prices. By allocating to a diversified pool of money market securities, investors can continue to benefit from yield rises – as maturing assets can quickly be recycled into higher yielding paper – whilst protecting their portfolio from volatility that is significantly higher even in 'safe haven' instruments like UK gilts. As investors grapple with an environment that is hurting all major asset classes, these characteristics are incredibly valuable.
Past performance is not a guide to future performance. The value of investments may fall as well as rise and investors may not get back the amount invested. Income from investments may fluctuate.
This document is issued for information only by Canada Life Asset Management. This document does not constitute a direct offer to anyone, or a solicitation by anyone, to subscribe for shares or buy units in fund(s). Subscription for shares and buying units in the fund(s) must only be made on the basis of the latest Prospectus and the Key Investor Information Document (KIID) available at https://www.canadalifeassetmanagement.co.uk/ 
The information contained in this document is provided for use by investment professionals and is not for onward distribution to, or to be relied upon by, retail investors. No guarantee, warranty or representation (express or implied) is given as to the document's accuracy or completeness. The views expressed in this document are those of the fund manager at the time of publication and should not be taken as advice, a forecast or a recommendation to buy or sell securities. These views are subject to change at any time without notice.
The LF Canlife Sterling Liquidity Fund is a UCITS scheme and a standard variable net asset value (VNAV) money market fund (MMF). The MMF is not a guaranteed investment, nor does it receive external support to guarantee its liquidity. Unlike bank deposits, investment in MMFs can fluctuate and investors' capital is at risk.
Canada Life Asset Management is the brand for investment management activities undertaken by Canada Life Asset Management Limited, Canada Life Limited and Canada Life European Real Estate Limited. Canada Life Asset Management Limited (no. 03846821), Canada Life Limited (no.00973271) and Canada Life European Real Estate Limited (no. 03846823) are all registered in England and the registered office for all three entities is Canada Life Place, Potters Bar, Hertfordshire EN6 5BA. Canada Life Asset Management Limited is authorised and regulated by the Financial Conduct Authority. Canada Life Limited is authorised by the Prudential Regulation Authority and regulated by the Financial Conduct Authority and the Prudential Regulation Authority.
Job Number CLI02094 – Expiry 31/08/2022