Rising yields give a rare opportunity to buy quality growth companies at reasonable prices.
If you were to imagine your ideal buy-and-hold stock, it would probably be one that generates attractive, steady returns and growth over the long term, while also providing protection in difficult times.
This is essentially what fund managers call a 'quality compounder'. These are companies that have high cash flow generation, minimal debt and strong recurring revenues from businesses that are well-protected by brand loyalty or specialist expertise. They also tend to have pricing power, which provides some protection against inflation because they can pass costs on to customers.
Combined, these elements are a recipe for generating superior risk-adjusted returns across economic cycles. Quality compounders may not make stellar returns over the short term, but they can produce a steady flow of profits with a powerful long-term growth compounding effect.


Why do rising yields affect quality compounders?
Exceptional quality almost inevitably comes with a hefty price tag. However, over the past six months some quality compounders have substantially underperformed the wider market, presenting a good entry point.
The prospect of a strong global economic rebound and rising inflation has had two key effects: a rotation from growth to cyclical and value stocks, and a sharp rise in bond yields, both of which have reduced the attractiveness of quality growth stocks for some investors.
Just as rising bond yields cause bond prices to fall, quality compounders can experience the same effect because they produce bond-like, steady returns over the long term. Rising yields enable investors to earn more in the short term, which in turn makes the long-term returns from quality compounders look less attractive.
Since the beginning of April yields have flattened, encouraging investors to rotate back into quality compounders. Yields may rise further as the recovery progresses. If they do, we will be looking for further opportunities to add quality long-term holdings to our portfolios.
Markets are currently focused on reaping short-term gains from an exceptional recovery. Over the longer term we believe that investors will be better served by companies that offer strong fundamentals and the potential to provide stable, consistent returns.
We have recently bought several quality compounder stocks that we that we will be happy to hold for the long term in the LF Canlife European and UK Equity funds, including Experian and Cellnex Telecom.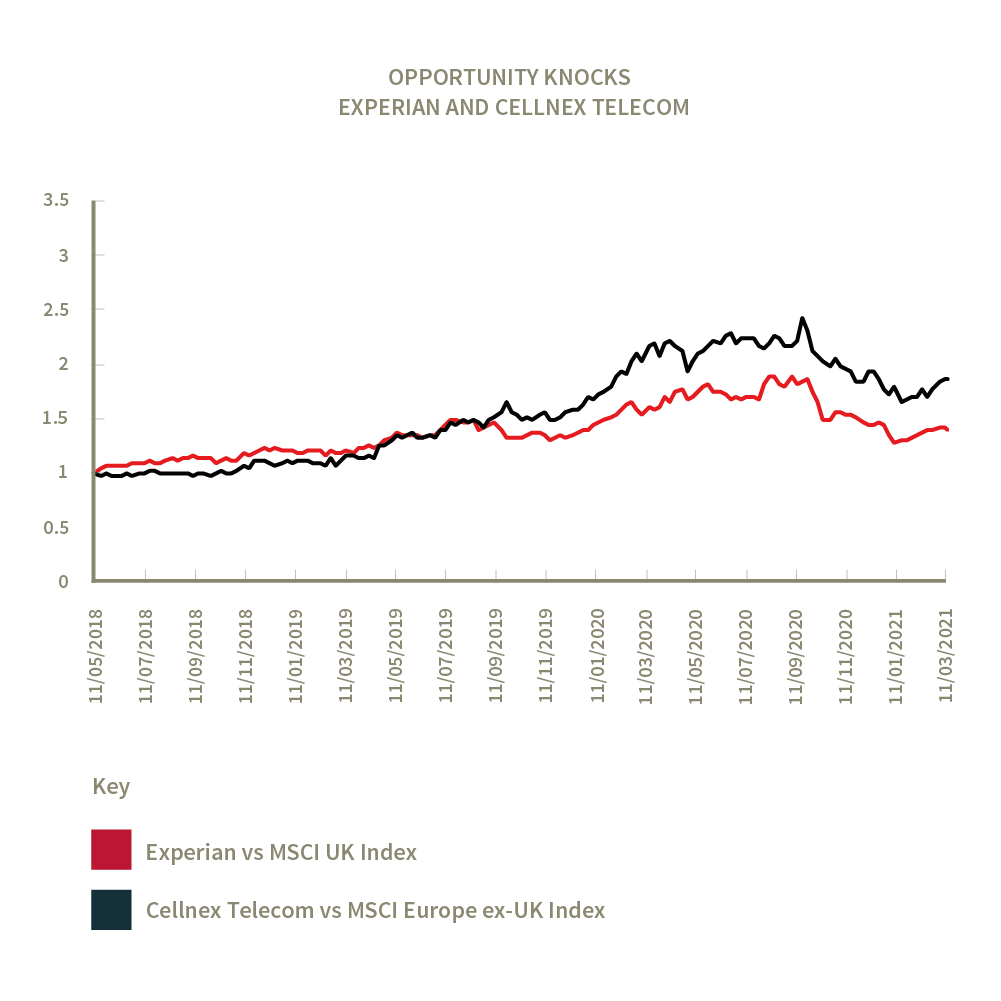 Source: MSCI as at 04/04/2021
Towering ambition: Cellnex Telecom
Cellnex is Europe's largest operator of telecoms towers, with a network of 104,000 towers across the Continent. Floated in 2015, Cellnex brought to Europe the same business model that American Tower has applied successfully in North America of buying telecoms towers from telcos and leasing them back to multiple users.
This is a highly cash-generative approach. Towers that were under-used when operated by a single telco can be leased to multiple users, making better use of capacity at a marginal cost that is virtually zero. Furthermore, many of the company's contracts are index-linked, providing insulation against inflation.
We are optimistic about Cellnex's long-term growth prospects. Volumes of data usage and transmission are growing very quickly, increasing competition for capacity. Cellnex has signed deals to build approximately 24,000 towers over the coming years, many of which will provide 5G networks that underpin smart cities and the internet of things.


Managing the future's data: Experian
UK-listed Experian is best-known as one of the 'Big Three' global providers of consumer credit scores and anti-fraud products alongside TransUnion and Equifax. A less visible but important area of Experian's business is the management and analysis of data.
The company provides analytical and decision-making tools to governments, businesses and healthcare providers for a swathe of activities, from company marketing to individual fingerprinting and scenario modelling.
Experian has consistently delivered above-GDP organic growth in its core markets, has high operating margins and return on capital, and converts most of its profits to cash. It is well-placed to benefit from digitisation, rapidly growing data use and there is strong growth potential for its credit-scoring business in emerging markets as the new middle classes increase their use of credit.
Important Information
Past performance is not a guide to future performance. The value of investments may fall as well as rise and investors may not get back the amount invested. Income from investments may fluctuate. Currency fluctuations can also affect performance.
Due to the underlying assets held, the prices of the LF Canlife UK Equity Fund and LF Canlife European Fund are classed as having above average to high volatility.
The information contained in this document is provided for use by investment professionals and is not for onward distribution to, or to be relied upon by, retail investors. No guarantee, warranty or representation (express or implied) is given as to the document's accuracy or completeness. The views expressed in this document are those of the fund manager at the time of publication and should not be taken as advice, a forecast or a recommendation to buy or sell securities. These views are subject to change at any time without notice. This document is issued for information only by Canada Life Asset Management.
This document does not constitute a direct offer to anyone, or a solicitation by anyone, to subscribe for shares or buy units in fund(s). Subscription for shares and buying units in the fund(s) must only be made on the basis of the latest Prospectus and the Key Investor Information Document (KIID) available at https://www.canadalifeassetmanagement.co.uk/
Canada Life Asset Management is the brand for investment management activities undertaken by Canada Life Asset Management Limited, Canada Life Limited and Canada Life European Real Estate Limited. Canada Life Asset Management Limited (no. 03846821), Canada Life Limited (no.00973271) and Canada Life European Real Estate Limited (no. 03846823) are all registered in England and the registered office for all three entities is Canada Life Place, Potters Bar, Hertfordshire EN6 5BA. Canada Life Asset Management Limited is authorised and regulated by the Financial Conduct Authority. Canada Life Limited is authorised by the Prudential Regulation Authority and regulated by the Financial Conduct Authority and the Prudential Regulation Authority.
CLI01881 Expiry on 16/05/2022