Fixed income investors may be missing a trick by only allocating to hedged global fixed income products.
While equity investors are increasingly aware that a home bias in their portfolios can result in lost opportunities and increased risk, bond investors are still reluctant to venture beyond Blighty's shores and the perceived safety of sterling-based investments.
In fixed income home bias takes two key forms: where assets are invested and the tendency to hedge returns back to sterling. Investment Association data shows that at 31 December 2020 £601 billion was invested in equity funds, with 66% (£396 billion) of that invested in markets outside of the UK. Meanwhile, just 27% of fixed income assets under management were invested in global bond funds.
The global bond sector offers an array of strategies, covering global government, investment grade corporate and high yield debt. Even within global bond vehicles, however, there is a preference to invest in hedged share classes. For example, Vanguard's £20 billion Global Bond Index Fund only offers hedged share classes.
Unhedged investment can help and hinder returns: if a UK-based investor receives a 1% return on a non-sterling bond, while sterling falls 1%, the overall return becomes 2%. By the same token, a rise in sterling can cancel out gains on non-sterling assets.
Given that overall bond returns tend to be lower than overall equity returns, currency swings can have a larger impact on how much a bond investor gets to take home at the end of the day. Hedging is therefore often applied to global bond portfolios in the name of reducing volatility. This can be sensible if the portfolio has high exposure to just one or two overseas currencies or the fund managers lack the resources to apply active currency views.
However, hedging also removes an important source of potential returns and diversification – particularly in the current environment, when ultra-low interest rates and increasing risk in a number of areas of corporate bond markets reduce the potential for making decent returns.


Boosting returns and preserving capital
In a highly diversified global portfolio, such as a global equity index fund, currency effects tend to cancel each other out over time. Alternatively, currency exposures could be put to good use by an active fund manager who is able to apply views on currency movements, thus adding a potential source of returns and can be critical in preserving capital. This is particularly helpful during periods where government bond yields are rising or credit spreads are widening. History shows that diversified pools of unhedged currencies have provided efficient downside mitigation features.
By way of example, 2018 was a volatile year in which the Fed was leading global government bond yields higher, while corporate bond spreads widened as a trade war was burgeoning. In a typical environment, spreads tend to tighten when government bond yields rise, but not this time. It was therefore very challenging to generate returns other than through currency exposures. The LF Canlife Global Macro Bond Fund benefited from its overweight exposures to US dollar and the yen, enabling it to generate a positive return of 0.9% in a tough year for bond investors.
In addition to the downside mitigation aspect, we also believe an unhedged global allocation in a fixed income portfolio can be an excellent way to increase diversification for sterling-denominated investors. This can be evidenced by the significantly lower long-term correlation offered by unhedged global fixed income (0.15 unhedged vs 0.47 hedged) versus a weighted average of the IA sterling Corporate Bond, Sterling Strategic Bond and Sterling High Yield sectors.[1]
Clearly, both hedged and unhedged fixed income have roles to play in client portfolios, depending on the strategy being pursued and investors' objectives and risk tolerances. However, some investors are missing a trick by only allocating to hedged global fixed income products. The current environment of low-yielding sovereign bonds and credit markets distorted by quantitative easing favours active bond strategies with a global remit and the ability to use currency exposures as additional sources of performance and diversification.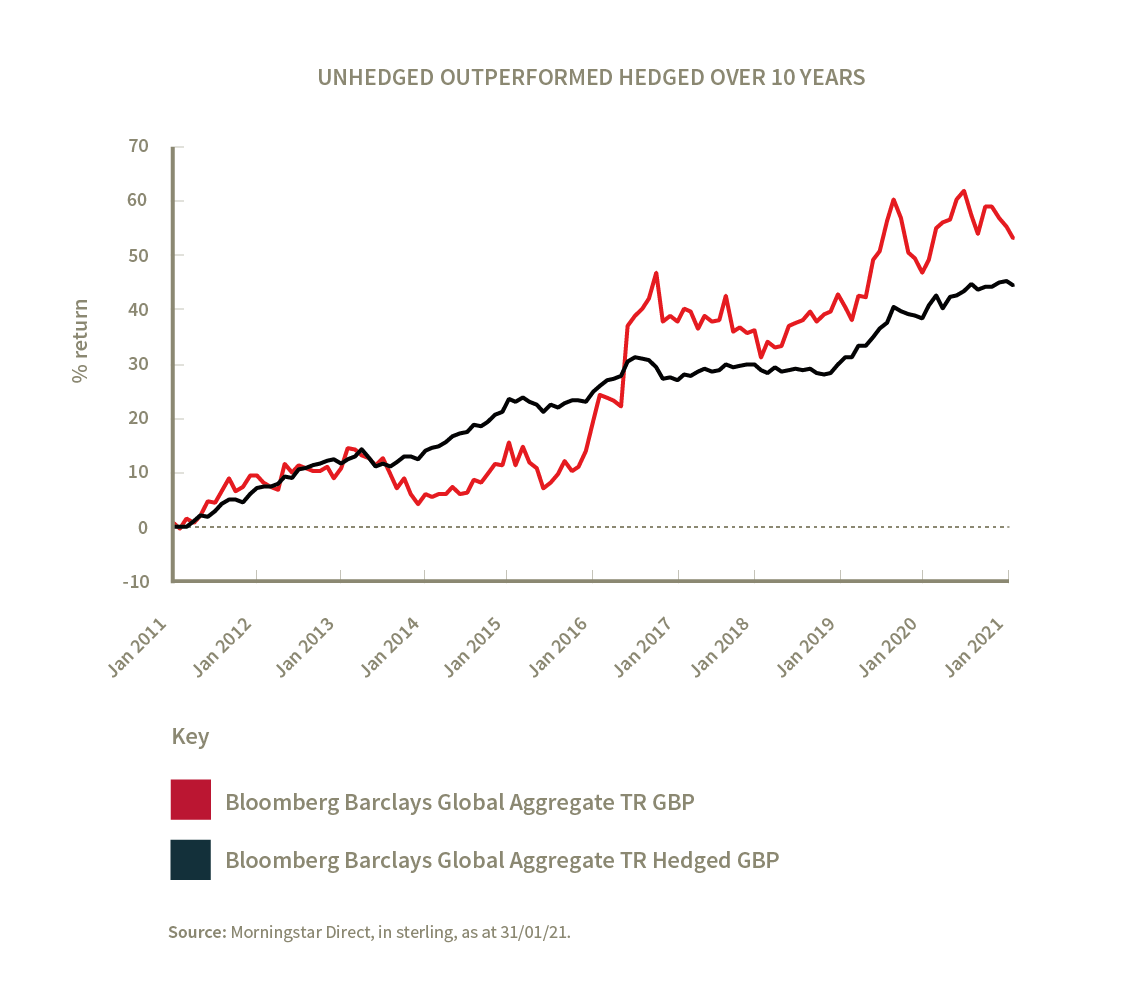 [1]   Source: Morningstar Direct, as at 31/01/2021. Long-term correlation measured from 1990 to 31/01/21 using monthly data points. Indices used = Bloomberg Barclays Global Aggregated Bond Index, Bloomberg Barclays Global Aggregate Bond Index Hedged GBP, IA £ Corporate Bond, IA £ Strategic Bond & IA £ High Yield.




LF Canlife Global Macro Bond Fund
While many of its peers are heavily biased towards the US dollar, the LF Canlife Global Macro Bond Fund offers a more diversified, unhedged exposure. The Fund employs a 'Triptych' approach to generating returns from interest rates, corporate spreads and currency exposures in six developed market currencies (USD, EUR, GBP, CAD, JPY and AUD).
The managers invest in high-quality, liquid government and investment grade corporate bonds, providing a long-only strategy with no derivatives. This makes for a simple and easily understood investment approach.
Important information
The information contained in this document is provided for use by investment professionals and is not for onward distribution to, or to be relied upon by, retail investors.
Past performance is not a guide to future performance. The value of investments may fall as well as rise and investors may not get back the amount invested. Income from investments may fluctuate. Currency fluctuations can also affect performance.
Canada Life Asset Management is the brand for investment management activities undertaken by Canada Life Asset Management Limited, Canada Life Limited and Canada Life European Real Estate Limited. Canada Life Asset Management Limited (no. 03846821), Canada Life Limited (no.00973271) and Canada Life European Real Estate Limited (no. 03846823) are all registered in England and the registered office for all three entities is Canada Life Place, Potters Bar, Hertfordshire EN6 5BA. Canada Life Asset Management Limited is authorised and regulated by the Financial Conduct Authority. Canada Life Limited is authorised by the Prudential Regulation Authority and regulated by the Financial Conduct Authority and the Prudential Regulation Authority.
No guarantee, warranty or representation (express or implied) is given as to the document's accuracy or completeness.
The views expressed in this document are those of the fund manager at the time of publication and should not be taken as advice, a forecast or a recommendation to buy or sell securities. These views are subject to change at any time without notice.
This document is issued for information only by Canada Life Asset Management. This document does not constitute a direct offer to anyone, or a solicitation by anyone, to subscribe for shares or buy units in fund(s). Subscription for shares and buying units in the fund(s) must only be made on the basis of the latest Prospectus and the Key Investor Information Document (KIID) available at https://www.canadalifeassetmanagement.co.uk/
Data Source - © 2020 Morningstar, Inc. All Rights Reserved. The information contained herein: (1) is proprietary to Morningstar and/or its content providers; (2) may not be copied or distributed; and (3) is not warranted to be accurate, complete or timely. Neither Morningstar nor its content providers are responsible for any damages or losses arising from any use of this information.
CLI01855
Expiry 31 March 2022