Consumers have a record cash hoard burning a hole in their pockets. Investors may be drastically underestimating the strength and speed of the impending economic recovery.
Lockdown life for many has become a succession of groundhog days. Mired in a samey present, it is difficult to visualise life after lockdown.
For example, it is easy to overestimate the extent to which our lives have been permanently changed by the pandemic. Yes, online purchases and Netflix subscriptions have soared, and Zoom and Microsoft Teams have become everyday tools for working, learning and staying in touch with friends and family. Meanwhile, employee surveys suggest that people have got comfortable with lockdown life, with many respondents expressing a preference for more remote working and less time in the office.
But how will they feel in a few months' time? The new habits of online grocery shopping, Zoom calls and WFH have their benefits in terms of convenience and leaving more time for leisure and family life. However, working or learning from home can also be lonely, demotivating and stressful.
We are social animals who enjoy variety, novelty and movement. Many of the things we used to do – such as going to a cinema, meeting face-to-face, working with colleagues in an office, eating in a restaurant, going to a large sports event or music festival, browsing in city centre shops, travelling just for the sake of travelling – were all things that we did for a reason. It was because we liked doing them.
Technology changes, but people do not. When lockdown ends, we will probably hang on to the useful things that we learned to do during lockdown but we will also want all the things we used to enjoy. Many of which involve service industries.
The gorilla in the room
Service industries have been particularly hard-hit by the pandemic and are likely to see the strongest bounce-back after the pandemic once immunisation programmes have been rolled out. This matters because services account for around 75% of US GDP, 80% of UK GDP and 75% of EU GDP.[1]
Clearly, office workers have been least affected among the services industries, but the pandemic has been much less kind to large swathes of the hospitality, travel, retail, fitness, personal grooming and entertainment industries. We are likely to see an unprecedented rebound across diverse service industries, the very areas of economic activity that contribute a significant portion of GDP in developed economies.
If so, current forecasts for GDP growth may be wide of the mark. In our view, many investors may be drastically underestimating the strength of pent-up demand and the speed of the impending economic recovery that will follow. This is no ordinary recession because its cause, a virus, and the level of government and central banks responses to it are unlike anything we have previously experienced. Although areas of the world economy are currently mothballed, they are largely unscathed. This stands in stark contrast to the aftermath of a normal economic recession, or a major conflict or a natural disaster.
Savings are at historically eye-popping levels (see below), and consumers continue to spend, albeit on a more restricted range of goods and experiences than normal. Unusually, we are also seeing spending on significant big-ticket items in the form of robust car sales and housing markets, both of which are usually a feature of well-established economic cycles. It is quite likely that we would be seeing more spending on larger items if supply chains were currently in a fit state to provide them.
There is no shortage of evidence for global pent-up demand, from sharply rising commodity prices to competition for shipping containers[2]  as the world's dislocated supply chains begin to refill. In terms of a services recovery, the February 2021 US Services PMI showed the fastest expansion of business activity across the US service sector since July 2014, while the March 2021 UK services PMI was 56.8, compared with 49.5 in February.
A more anecdotal view of pent-up demand can be found among cruise companies, which were severely hit by lockdowns and negative "floating Petri dish" headlines in 2020. They are now are reporting strong bookings. In February this year a 180-day world cruise with Oceania Cruises, due to sail in 2023 and costing £38,000 per passenger, sold out within hours of being announced[3], while Scenic River Cruises recently reported a 150% uplift in bookings across its European cruises.[4] There is clearly demand for fresh experiences and savings data suggests that people are ready to spend money on them.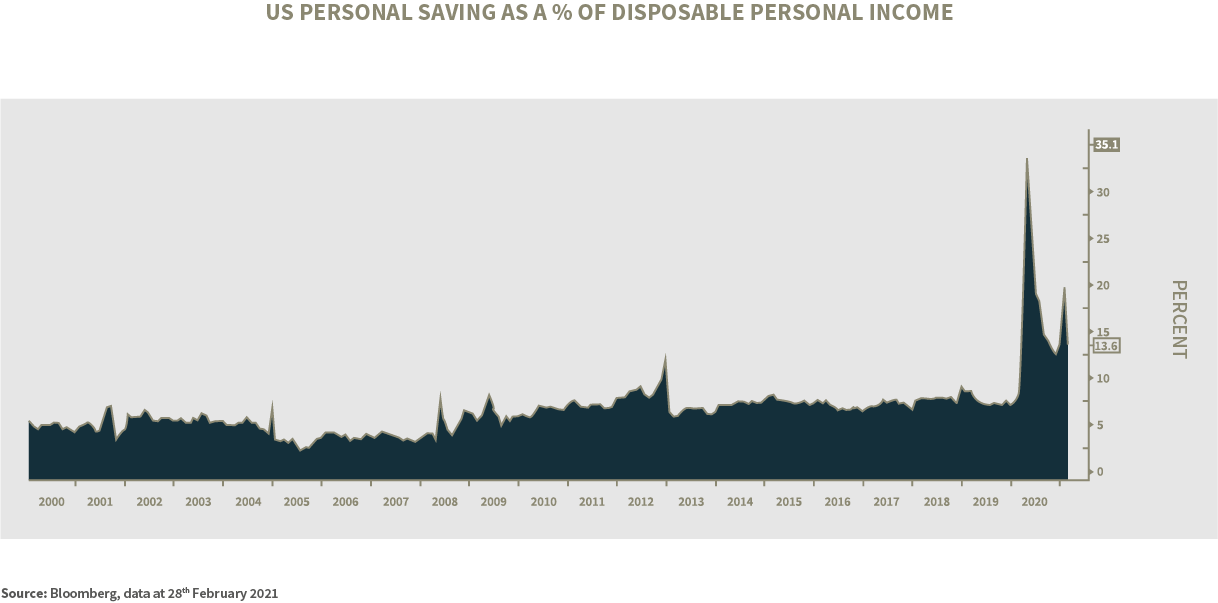 Savings tsunami
Lockdown has been an exceptionally tough for people in lower-paid work. They are far more likely than middle income and higher earners to have lost their jobs, needed draw on their savings or take on more debt. Meanwhile, most middle- and higher income earners have held on to their jobs. They have continued to spend throughout the pandemic on household goods, take-away food, home entertainment and home office equipment but, with little else to spend their money on, they have also accumulated very high levels of savings.
In the UK the household savings ratio (household savings as a proportion of household disposable income) increased from 9.5% in the first quarter of 2020 to over 29% in the second quarter of 2020, a record high since the series began in 1987. During the second quarter of 2020 alone, deposits in UK bank accounts increased by £44.6bn. In the US, personal savings have almost doubled since 2019, weighing in at more than US$2.3tn in the fourth quarter of 2020.[5]
Despite the perception that many people have had to take on additional debt as a result of the pandemic, total household debt in the UK for Q3 2020 was up just 2.4% from a year earlier.  A key reason for this is that UK unsecured debt has fallen to very low levels as households reduced their spending. Overall UK household debt as a percentage of disposable income is now lower than it was in 2017.[6]
It could be argued that many people will prefer to hold on to their savings rather than embarking on a post-lockdown spending spree, particularly if unemployment rises with the ending of furlough schemes and government support for beleaguered companies.
However, the majority of savings are held by middle- and higher income earners who are less likely to be affected by rising unemployment. After a year of lockdowns most people with some money to spare will, at the very least, be looking forward to treating themselves to a well-deserved holiday.  


Health is wealth - Planet Fitness
Health and fitness have assumed a far greater importance in people's minds since the arrival of COVID-19. The growth of online fitness has been a highly visible outcome of lockdown, but we fully expect that many customers will want a 'physical' gym experience, possibly combined with online options, once they have the opportunity.
While many smaller gyms and fitness chains have suffered during the pandemic, a number of larger names, such as American franchisor Planet Fitness, have managed to maintain or grow their businesses. Planet Fitness offers 'a workout environment in which anyone – and everyone – can be comfortable'. The company's 2,039 clubs (or 'judgement-free zones') and online services make it one of the largest US fitness club franchises by number of members and locations.
We purchased Planet Fitness in March 2020 at US$50.28 and have subsequently added to our position as the outlook for the company improved. The shares currently trade at US$76.56 (as at 31/03/2021)
Moving to the country - Toll Brothers
Working from home has encouraged a growing number of people to consider moving away from high-density urban areas. This trend could continue well after lockdowns end and could benefit companies such as Toll Brothers, a leading builder of high-end homes in the US with a market cap of US$5bn.
The company offers an interesting contrarian macro play on US housing that we have included in the LF Canlife Global Equity and North American funds. Having fallen by 71% in March 2020, the shares were at a 10-year low in terms of valuation. We purchased a holding in Toll Brothers in April 2020 at US$21.30, since when US housing data has dramatically improved. The shares currently trade at US$57.45 (as at 31/03/21).
[1] US GDP from World Bank, data at 2018. UK GDP data from House of Commons Library, Components of GDP: Key Economic Indicators, 2019 data published 12 March 2021. EU GDP data from European Central Bank, Structure of the Euro Area Economy, 2019 data.
[2] Toilet paper shortage could be next domino in global container ship crisis, Seeking Alpha, 24 March 2021
[3] Independent, 9th February 2021
[4] Travel Weekly, 2nd March 2021

[5] Statista Research, 16th February 2021

[6] House of Commons Library, Coronavirus: Impact on Household Savings and debt, published 13 January 2021
Important information
The value of investments may fall as well as rise and investors may not get back the amount invested.
The information contained in this document is provided for use by investment professionals and is not for onward distribution to, or to be relied upon by, retail investors.
No guarantee, warranty or representation (express or implied) is given as to the document's accuracy or completeness.
The views expressed in this document are those of the fund manager at the time of publication and should not be taken as advice, a forecast or a recommendation to buy or sell securities. These views are subject to change at any time without notice.
This document is issued for information only by Canada Life Asset Management. This document does not constitute a direct offer to anyone, or a solicitation by anyone, to subscribe for shares or buy units in fund(s). Subscription for shares and buying units in the fund(s) must only be made on the basis of the latest Prospectus and the Key Investor Information Document (KIID) available at https://www.canadalifeassetmanagement.co.uk/
Canada Life Asset Management is the brand for investment management activities undertaken by Canada Life Asset Management Limited, Canada Life Limited and Canada Life European Real Estate Limited. Canada Life Asset Management Limited (no. 03846821), Canada Life Limited (no.00973271) and Canada Life European Real Estate Limited (no. 03846823) are all registered in England and the registered office for all three entities is Canada Life Place, Potters Bar, Hertfordshire EN6 5BA. Canada Life Asset Management Limited is authorised and regulated by the Financial Conduct Authority. Canada Life Limited is authorised by the Prudential Regulation Authority and regulated by the Financial Conduct Authority and the Prudential Regulation Authority.
Due to the underlying assets held in the LF Canlife North American Fund, the price of the fund is classed as having above average to high volatility.
Expiry 11/04/2022
CLI01857