Developed markets are likely to see a notable increase in borrowing in the coming years – what are the implications?
Our new chancellor, Jeremy Hunt, has produced a much more austere budget than his predecessor. Even so, alongside threats of quantitative tightening it has led to warnings about the imminent flood of gilts into the market. This effect, known as 'crowding out', increases interest rates and reduces investment spending.
Of course, the UK is not alone. Nor has it even a big share of expected global debt issuance. Developed markets are all highly indebted. Austerity is back in favour after the Covid-19 bailouts and further quantitative easing is supposedly cancelled. Taxpayers everywhere should expect some hefty sovereign issuance. 
Compared to history, the debt needed is eye-watering. Over the next five years, in the UK the Office for Budget Responsibility (OBR) expects another half of a trillion pounds of borrowing.
Projected UK Borrowing 2022-2028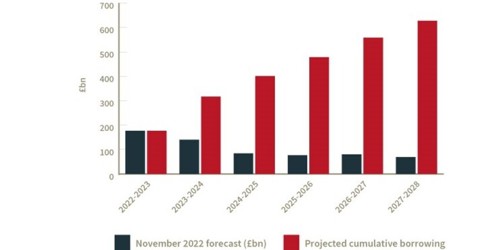 Source: OBR
In the US, the Congressional Budget Office forecasts a total government deficit increase of over six trillion dollars. This is before adding in assorted promises such as pensions and healthcare. Similar trends are evident in the EU. Who the buyers of this debt are, and at what price, is not clear. Neither is whether current prices assume all this issuance. Are yields determined by supply dynamics, or by inflation expectations?
We think it boils down to inflation
It is always tricky pulling apart the evidence. We cannot prove it, but believe yields are mostly influenced by inflation. A review of economic theories suggests little strong evidence that the crowding out effect is proven.
For what it is worth – forecasters have of course been humbled by the inaccuracies of previous forecasts – we think that inflation will drop from current high levels to much lower, but still above those we have enjoyed for much of the past decade. We are seeing this in several data points lately to validate our forecast. Consumer price inflation (CPI) is dropping across developed markets, by slightly quicker than forecasts, and across several points in time too.
Impact
For now, we remain relaxed about the future of bond yields. In the absence of a hard landing, we expect them to return to relative stability. This is a helpful backdrop for equity returns too.
Important Information
The value of investments may fall as well as rise and investors may not get back the amount invested.
The information contained in this document is provided for use by investment professionals and is not for onward distribution to, or to be relied upon by, retail investors.

No guarantee, warranty or representation (express or implied) is given as to the document's accuracy or completeness.
The views expressed in this document are those of the fund manager at the time of publication and should not be taken as advice, a forecast or a recommendation to buy or sell securities. These views are subject to change at any time without notice.
Canada Life Asset Management is the brand for investment management activities undertaken by Canada Life Asset Management Limited, Canada Life Limited and Canada Life European Real Estate Limited. Canada Life Asset Management Limited (no. 03846821), Canada Life Limited (no.00973271) and Canada Life European Real Estate Limited (no. 03846823) are all registered in England and the registered office for all three entities is Canada Life Place, Potters Bar, Hertfordshire EN6 5BA. Canada Life Asset Management Limited is authorised and regulated by the Financial Conduct Authority. Canada Life Limited is authorised by the Prudential Regulation Authority and regulated by the Financial Conduct Authority and the Prudential Regulation Authority.
This page is for information only. It does not constitute a direct offer to anyone, or a solicitation by anyone, to subscribe for shares or buy units in fund(s). Subscription for shares and buying units in the fund must only be made on the basis of the latest Prospectus and the Key Investor Information Document (KIID) available in the Literature section.