Long-term thinking for short-term investments

We all know how events have a way of creeping up on us: birthdays, Christmas, Money Market Reform (earlier this year) and now the end of the London Interbank Offered Rate (LIBOR). While the infamous reference rate doesn't officially become extinct until January 1st 2022, we need to look at what liquidity or pricing issues might occur during this immense transition away from it to alternative risk-free rates. To put it into perspective, globally speaking there are $370 trillion of financial products linked to LIBOR. In the sterling markets, Sterling Overnight Index Average (SONIA) has been developed by the Bank of England and the Financial Conduct Authority as the preferred primary interest rate benchmark.

For us, LIBOR Floating Rate Notes (FRNs) are the investments to be impacted during this transition towards it. FRNs serve as a major component of many liquidity funds as they provide access to desirable counterparties for a longer term without locking in current yield returns. FRNs typically make up a third of our holdings and were built up last year in anticipation of future Bank of England interest rate rises, so we could capture the benefits of higher yields when the coupons reset each quarter.

Although the transition gives rise to caution and current markets no longer anticipate further rate rises, FRNs remain an important element of liquidity funds and we are not avoiding them. However, we are looking ahead carefully to circumvent potential liquidity risks or pricing pitfalls as the deadline draws near and LIBOR inevitably loses its relevance. To this extent, we have been actively engaging with issuers about new CDs and SONIA FRNs and only buy 2-year LIBOR FRNs where additional value could be gained.
LF Canlife Sterling Liquidity Fund Asset Allocation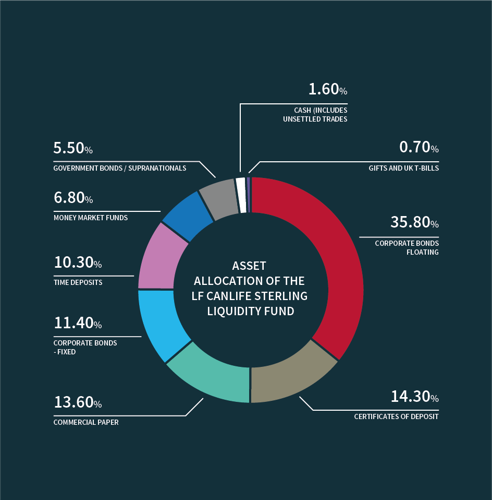 Source: Canada Life Asset Management, at 31/05/2019
The LF Canlife Sterling Liquidity Fund is designed to provide institutional investors with a high degree of capital security and daily liquidity with the ultimate aim of delivering enhanced returns relative to short-term bank deposits.  It stands out within Canada Life Investments' well-rounded product range because of its day-to-day active management strategies as well as its AAAf/S1 rating from Fitch Ratings.   
Important Information
Past performance is not a guide to future performance. The value of investments may fall as well as rise and investors may not get back the amount invested. Income from investments may fluctuate.
The information contained in this document is provided for use by investment professionals and is not for onward distribution to, or to be relied upon by, retail investors. No guarantee, warranty or representation (express or implied) is given as to the document's accuracy or completeness. The views expressed in this document are those of the fund manager at the time of publication and should not be taken as advice, a forecast or a recommendation to buy or sell securities. These views are subject to change at any time without notice. This document is issued for information only by Canada Life Asset Management. This document does not constitute a direct offer to anyone, or a solicitation by anyone, to subscribe for shares or buy units in fund(s). Subscription for shares and buying units in the fund(s) must only be made on the basis of the latest Prospectus and the Key Investor Information Document (KIID) available at www.canadalifeassetmanagement.co.uk. This fund is a UCITS scheme and a standard variable net asset value (VNAV) money market fund (MMF). The MMF is not a guaranteed investment, nor does it receive external support to guarantee its liquidity. Unlike bank deposits, investment in MMFs can fluctuate and investors' capital is at risk.   
Canada Life Asset Management is the brand for investment management activities undertaken by Canada Life Asset Management Limited, Canada Life Limited and Canada Life European Real Estate Limited. Canada Life Asset Management Limited (no. 03846821), Canada Life Limited (no.00973271) and Canada Life European Real Estate Limited (no. 03846823) are all registered in England and the registered office for all three entities is Canada Life Place, Potters Bar, Hertfordshire EN6 5BA. Canada Life Asset Management is authorised and regulated by the Financial Conduct Authority. Canada Life Limited is authorised by the Prudential Regulation Authority and regulated by the Financial Conduct Authority and the Prudential Regulation Authority.

CLI01444
Expiry on 30/11/2020