Until recently, the Bank of England had been looking upwards since last raising the official interest rate in November 2017. It sent messages for months that a 'gradual, limited' rise in interest rates would be needed to stop inflation rising above its 2% target and this led LIBOR (London Inter-bank Offered Rate) rates to edge up as the markets anticipated another hike.
Floating Rate Notes (FRNs) – bonds that have short durations and reset their coupon as rates move – were in great demand during this period.  We took a similar view, with FRNs in the Fund (which benefited from the re-setting of rates each quarter with LIBOR moving upwards towards the next interest rate rise) peaking at 45% of our holdings by March 2019. Of course, we do not buy FRNs for the sake of it – it has to be for the right reason and driven more by a name or its rating and the relevance of this strengthened as it became apparent that further rises were going to be on hold. Since then we have seen economic conditions falter further in the UK with Brexit uncertainty dragging on and a disruptive no-deal Brexit at the end of October seeming more likely given the new Prime Minister Boris Johnson's stance. Consequently, markets now are pricing in rate cuts over the next 12 months and this can be seen in 5--year gilt yields of 0.40% as of August 1st.                           
FRNs still play an important role in the Fund by way of duration and exposure to otherwise rare names – currently making up 33% of our holdings. However, we have changed the Fund's emphasis in recent months by reinvesting FRN maturities into select highly liquid 1-year fixed rate bonds to lock in returns that adequately reward the term and counterparty risk. A prime example is a lesser-known gem – Aareal Bank's fixed rate covered June 2020 bond. This German covered bond is rated Aaa yet yields more than a FRN or commercial paper for an unsecured counterparty and was bought with the added-benefit of consulting with our internal credit research team.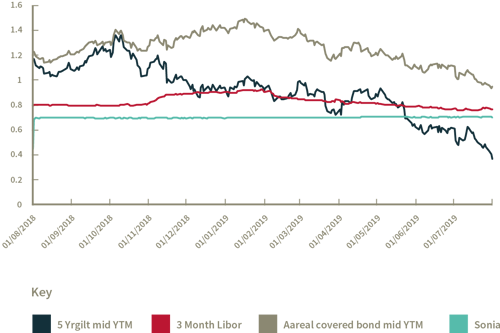 Source: Bloomberg at 01/08/2019
The LF Canlife Sterling Liquidity Fund is designed to provide institutional investors with a high degree of capital security and daily liquidity with the ultimate aim of delivering enhanced returns relative to short-term bank deposits.  It stands out within Canada Life Asset Management's  well-rounded product range because of its day-to-day active management strategies as well as its AAAf/S1 rating from Fitch Ratings.
Important Information
Past performance is not a guide to future performance. The value of investments may fall as well as rise and investors may not get back the amount invested. Income from investments may fluctuate.
The information contained in this document is provided for use by investment professionals and is not for onward distribution to, or to be relied upon by, retail investors. No guarantee, warranty or representation (express or implied) is given as to the document's accuracy or completeness. The views expressed in this document are those of the fund manager at the time of publication and should not be taken as advice, a forecast or a recommendation to buy or sell securities. These views are subject to change at any time without notice. This document is issued for information only by Canada Life Asset Management. This document does not constitute a direct offer to anyone, or a solicitation by anyone, to subscribe for shares or buy units in fund(s). Subscription for shares and buying units in the fund(s) must only be made on the basis of the latest Prospectus and the Key Investor Information Document (KIID) available at www.canadalifeassetmanagement.co.uk. This fund is a UCITS scheme and a standard variable net asset value (VNAV) money market fund (MMF). The MMF is not a guaranteed investment, nor does it receive external support to guarantee its liquidity. Unlike bank deposits, investment in MMFs can fluctuate and investors' capital is at risk.   
Canada Life Asset Management is the brand for investment management activities undertaken by Canada Life Asset Management Limited, Canada Life Limited and Canada Life European Real Estate Limited. Canada Life Asset Management Limited (no. 03846821), Canada Life Limited (no.00973271) and Canada Life European Real Estate Limited (no. 03846823) are all registered in England and the registered office for all three entities is Canada Life Place, Potters Bar, Hertfordshire EN6 5BA. Canada Life Asset Management is authorised and regulated by the Financial Conduct Authority. Canada Life Limited is authorised by the Prudential Regulation Authority and regulated by the Financial Conduct Authority and the Prudential Regulation Authority.
CLI01467 Expiry on 30/11/2020