Triple-B rated corporate bonds have attracted much attention this year as they now represent more than half of the Investment Grade market. The growing number of BBBs is largely attributed to how Quantitative Easing and an unusually long period of low interest rates have made it easier and cheaper for companies to lever up and finance their businesses. Concerns about the amount of leverage this adds to the financial system have also put these credits into the limelight, particularly at a time when growth is slowing and recessionary threats loom.
With the US economy in the late end of the cycle, we have been switching our portfolio to a more defensive stance and investing in high quality names while also looking selectively to add yield by moving down the capital structure in this now much bigger and varied bracket of credits. Generically speaking, BBBs are close to fair value, so risk reward in owning one is skewed more to the downside given the macro economic backdrop. Nonetheless, this doesn't preclude us from eyeing interesting opportunities that may arise given the M&A bouts of volatility in the market. In this type of market, picking up names with a potentially positive story or deleveraging trajectory could result in a healthy risk-adjusted return. A recent example is the BBB-rated Fidelity Information Services (FIS), the US-based global provider of banking and payments technology, which issued a multi-tranche deal across sterling, euros and US dollars. FIS came to the market to raise money for its recent Worldpay acquisition, making them the market leader in payment processing worldwide. Given the momentum of cashless transactions, we believe this is a relatively low risk and high growth business. Plus, the acquisition was not a fully debt-funded deal and rather a mix of c.90% stock and c.10% cash. As with any acquisition, this deal has its own execution risks but on balance we feel the returns offered by the bond compensate us for the risks involved.
We consistently select names on a case-by-case basis and assess companies rigorously in terms of value and ability to weather economic changes or interest rate moves. As we are concerned about the amount of debt as a whole mounting up in the financial system, we consider their leverage and cash-flow situations as well as their sectors and market share within them. In fact, we recently avoided a number of deals for names that were rated best in the industry but within or highly exposed to a sector that we did not feel positive about considering the current economic climate. On the other hand, given the unusual times in fixed income, we are willing to look at names that might be slightly out of our usual ratings realm and move further down the capital structure as long as we are comfortable with their credit risk profile and financial strength moving forward. Another prime example in this regard is Total -- the French oil and gas multinational, which is France's largest company by market capitalisation as well as a component of the major indices, including ESG. We went down the subordinated hybrid route instead of buying its senior debt and captured a decent spread because we understand the business and are comfortable with the credit risk.  
EUR Corporates yield (%)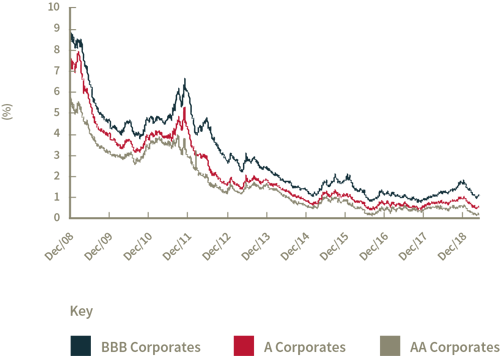 Source: Bloomberg, as at 28/05/2019.
BBB vs A premium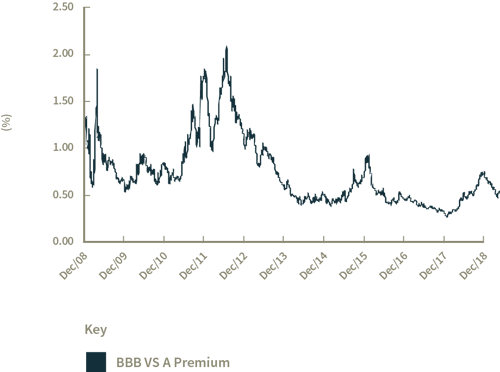 Source: Bloomberg, as at 28/05/2019
Important Information
Past performance is not a guide to future performance. The value of investments may fall as well as rise and investors may not get back the amount invested. Income from investments may fluctuate. Currency fluctuations can also affect performance.
The information contained in this document is provided for use by investment professionals and is not for onward distribution to, or to be relied upon by, retail investors. No guarantee, warranty or representation (express or implied) is given as to the document's accuracy or completeness. The views expressed in this document are those of the fund manager at the time of publication and should not be taken as advice, a forecast or a recommendation to buy or sell securities. These views are subject to change at any time without notice. This document is issued for information only by Canada Life Investments. This document does not constitute a direct offer to anyone, or a solicitation by anyone, to subscribe for shares or buy units in fund(s). Subscription for shares and buying units in the fund(s) must only be made on the basis on the latest Prospectus and the Key Investor Information Document (KIID) available at www.canadalifeassetmanagement.co.uk
Canada Life Asset Management is the brand for investment management activities undertaken by Canada Life Asset Management Limited, Canada Life Limited and Canada Life European Real Estate Limited. Canada Life Asset Management Limited (no. 03846821), Canada Life Limited (no.00973271) and Canada Life European Real Estate Limited (no. 03846823) are all registered in England and the registered office for all three entities is Canada Life Place, Potters Bar, Hertfordshire EN6 5BA. Canada Life Asset Management is authorised and regulated by the Financial Conduct Authority. Canada Life Limited is authorised by the Prudential Regulation Authority and regulated by the Financial Conduct Authority and the Prudential Regulation Authority.
CLI01440 Expiry 30/10/20